<!blockquote>
---
<!!!!!!!!!!!!!!!!!!>
EXIFLOG
A Software Tool for Logging Digital Photos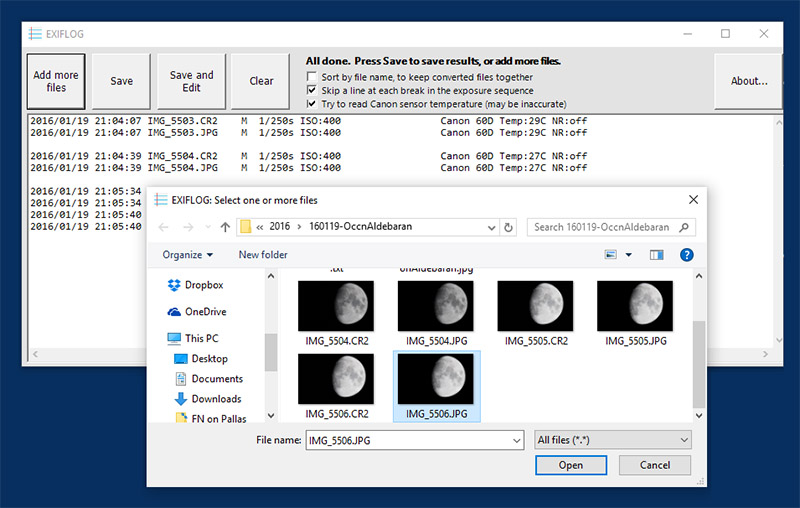 EXIFLOG is a simple freeware program I wrote in C# to help me keep logbooks of my digital photographs. Version 2.0 runs on Windows XP and up. The source code is a Visual Studio 2010 project.
EXIFLOG reads a group of files and creates a text file summarizing the EXIF exposure data in them, sorted by camera (original image) date and time, like this:

2004/09/24 14:07:01 IMGP0007.jpg     M   1/60s ISO:800    55mm f/3.5 PENTAX *ist
2004/09/24 14:08:27 IMGP0011.jpg     M   1/60s ISO:800    50mm f/3.5 PENTAX *ist
2005/03/03 20:07:07 CRW_0952.THM         1/60s ISO:800    28mm f/3.5 Canon EOS
2005/03/03 20:07:24 CRW_0953.JPG         1/40s ISO:800    28mm f/3.2 Canon EOS
2005/04/06 14:54:53 DSCN2502.JPG     P  1/148s ISO:100  17.8mm f/5.4 NIKON E990
2005/04/06 14:55:04 DSCN2503.JPG     P  1/127s ISO:100    16mm f/5.1 NIKON E990
2005/04/06 14:55:15 DSCN2504.JPG     P  1/140s ISO:100    16mm f/5.1 NIKON E990
2005/04/06 14:57:16 DSCN2505.JPG     P  1/145s ISO:100    16mm f/5.1 NIKON E990
2005/08/26 23:48:40 DSC_0022.JPG     M     30s            50mm f/4   NIKON D70s
2005/08/27 00:28:40 DSC_0032.JPG     M     30s            50mm f/4   NIKON D70s
To create a logbook page, I open this file in Word and add other information about each picture as appropriate.
Most JPG files from digital cameras contain EXIF data. EXIFLOG 2.0 also retrieves EXIF data from Canon CR2 and MOV files and many TIF files, as well as other formats in which it can recognize EXIF data blocks.
EXIFLOG also provides summary information for AVI video files, including the number of frames, frame rate, format, bit depth, and codec. Since AVI files do not encode the date and time, the file creation date and time are used.
Version 2.1 adds the ability to read the sensor temperature on some Canon cameras, although the reading is not necessarily accurate. Version 2.2 corrects the video frame count in AVI files and adds the ability to tell you whether long-exposure noise reduction is on or off with some Canon cameras.
To install EXIFLOG, download the installer, EXIFLOG-Setup.msi and run it.
You can also download the full source code for EXIFLOG as EXIFLOG-source.zip.
Note: Considerably more EXIF information, including even the sensor temperature of many Canon cameras, can be read with Phil Harvey's ExifTool, which I heartily recommend.
---
Copyright 2005, 2006, 2012, 2014 Michael A. Covington. Caching in search engines is explicitly permitted. Please link to this page rather than reproducing copies of it. This page is not in any way connected with or endorsed by any photographic manufacturer. Many of the product names that appear on this page are registered trademarks of their respective owners.