---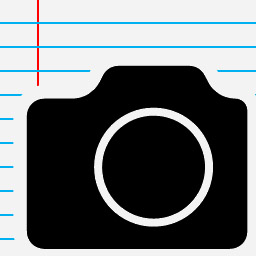 EXIFLOG
A Software Tool for Logging Digital Photos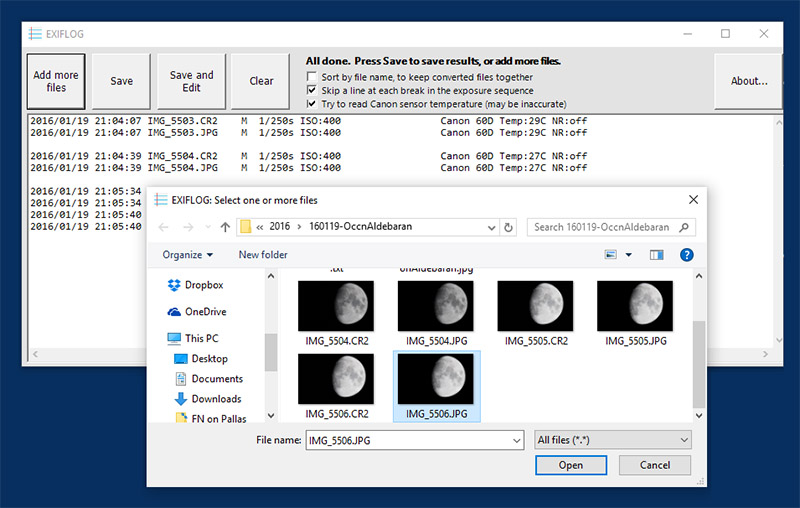 EXIFLOG is a simple freeware program I wrote in C# to help me keep logbooks of my digital photographs. The current version is tested in Windows 10 and almost certainly runs on any up-to-date installation of Windows XP SP3 or later. For Windows 2000 and XP users, older versions remain available at the bottom of the page. The source code is a Visual Studio 2015 project.
EXIFLOG reads a group of files and creates a text file summarizing the EXIF exposure data in them, sorted by camera (original image) date and time, like this:

2004/09/24 14:07:01 IMGP0007.jpg     M   1/60s ISO:800    55mm f/3.5 PENTAX *ist
2004/09/24 14:08:27 IMGP0011.jpg     M   1/60s ISO:800    50mm f/3.5 PENTAX *ist

2005/03/03 20:07:07 CRW_0952.THM         1/60s ISO:800    28mm f/3.5 Canon EOS
2005/03/03 20:07:24 CRW_0953.JPG         1/40s ISO:800    28mm f/3.2 Canon EOS

2005/04/06 14:54:53 DSCN2502.JPG     P  1/148s ISO:100  17.8mm f/5.4 NIKON E990
2005/04/06 14:55:04 DSCN2503.JPG     P  1/127s ISO:100    16mm f/5.1 NIKON E990
2005/04/06 14:55:15 DSCN2504.JPG     P  1/140s ISO:100    16mm f/5.1 NIKON E990
2005/04/06 14:57:16 DSCN2505.JPG     P  1/145s ISO:100    16mm f/5.1 NIKON E990

2005/08/26 23:48:40 DSC_0022.JPG     M     30s            50mm f/4   NIKON D70s

2005/08/27 00:28:40 DSC_0032.JPG     M     30s            50mm f/4   NIKON D70s
To create a logbook page, I click "Save and Edit" add other information about each picture as appropriate.
Most JPG files from digital cameras contain EXIF data. EXIFLOG also retrieves EXIF data from Canon CR2 and MOV files and many TIF files, as well as other formats in which it can recognize EXIF data blocks.
EXIFLOG also provides summary information for AVI video files, including the number of frames, frame rate, format, bit depth, and codec. Since AVI files do not encode the date and time, the file creation date and time are used.
Version 2.3 adds "Save and Edit" and the option of skipping a line where there appears to be a break in the series of exposures.
System requirements:

I currently use and develop EXIFLOG under Windows 10. However, EXIFLOG is compatible with Windows XP SP3 and up. It requires the .NET Framework 4 Client Profile, which is probably already present on your computer, but if not, can be downloaded here.
Installation: The installers are provided in .zip format because some browsers, including Microsoft Edge, do not allow you to download installers (.msi files). Download the zipped file and open it, then click on the .msi file.
You will get a warning that the software is "from an unknown source" (not digitally signed). That is common with freeware. Tell the installer to go ahead and install it. If you wish, you are welcome to virus-check the .msi file before launching it.
Older versions are provided for experimentation with older operating systems. I have not tried to run any of these under Mono in Linux or MacOS but would be glad to hear from anyone who has.
Current version (2.3) downloads:
EXIFLOG 2.3 installer (zipped)
EXIFLOG 2.3 executable
EXIFLOG 2.3 source code

Older versions (unsupported) for people using older computers: EXIFLOG 2.2 installer (zipped)
EXIFLOG 2.2 executable
EXIFLOG 1.5 executable
EXIFLOG 1.5 source code

Note: Considerably more EXIF information can be read with Phil Harvey's ExifTool, which I heartily recommend.
---
Copyright 2005, 2006, 2012, 2014, 2016 Michael A. Covington. Caching in search engines is explicitly permitted. Please link to this page rather than reproducing copies of it. This page is not in any way connected with or endorsed by any photographic manufacturer. Many of the product names that appear on this page are registered trademarks of their respective owners.