Two planets
Although not quite used to my increased workload, I haven't stopped doing astrophotography. Here are two planet pictures, not taken on the same night. Each is a stack of the best 75% of thousands of video images taken through my 8-inch telescope.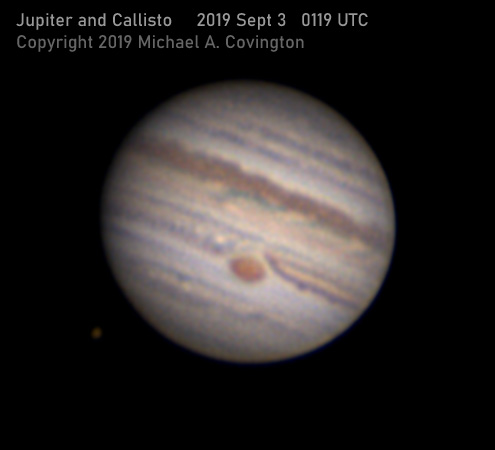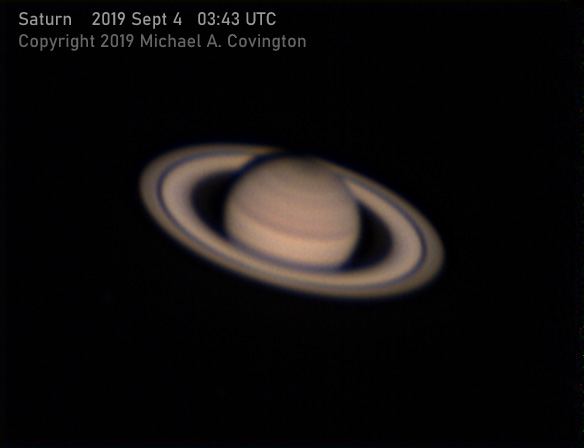 Jupiter and Saturn are in the part of the Solar System that the earth's north pole is tilted away from. I'm tilted away from them too, because I live in the Northern Hemisphere. So they don't rise very high in my sky, and I always have to look at them through a lot of unsteady air (think about it — there's less air high overhead you than at a low angle). Also, the earth is moving past them in its orbit, so they will soon not be in our evening sky at all.
---
---
You know you're doing 21st-century electronics if...

Humor department... [Later additions in blue.]

You know you're doing 21st-century electronics if:

Additions to the list are welcome.

The alert reader will already know that I'm modernizing my electronics workshop and my knowledge of current practice. For about fifteen years, family and job obligations kept me away from electronics as I only did software (my real profession). Now I'm determined to catch up, and the biggest change I'm noticing is economic: Now the most modern way to do things is also the cheapest. A lot of what's hot now existed in 2005 but was expensive. Not any more.

The other thing I've noticed is replacement of print media by the Web and video. Really current information is distributed very informally through web sites and forums. Particularly outstanding is David Jones' EEVBLOG videos and forums. Some of the videos have had a million views. One of the most entertaining is this tall tale, which made its debut March 31, 2017, and was obviously released one day too early because of time zone differences.

Where any kind of work with tools is involved, there's no substitute for watching people and seeing how they actually do things. That's what EEVBLOG shows plenty of. There are also the repair videos by Louis Rossmann, who does repairs on Apple laptops that are seemingly impossible — and rants about the way Apple treats customers. (In both sets of videos, watch out for offensive language; I don't recommend those videos for audiences below college age; that kind of machismo does not impress me.)

EEVBLOG vocabulary note: "Come a gutser" is very obscure WWI slang for "fail." I don't think it's offensive. I'm not sure anyone knows what it really means. The leading theory is that a "gutser" is a belly-flop, a badly executed dive that hits you in the guts.

Addendum: There are many sources of electronics videos on the Web. See for instance this excellent soldering tutorial in a series called Beauty and the Bolt (very suitable for pre-college student audiences, and good for encouraging women; and it covers crafts other than electronics). Contextual Electronics is also very promising; they sell online courses, but apparently they also have videos that can be viewed free on YouTube.
---
---
Soldering in the Mid-21st Century
Around 2004, some countries banned, and all countries started to discourage, the use of lead solder in consumer electronics. At the time, I got some SnAgCu (SAC) lead-free solder and didn't much like it.
Fast-forward to 2019, and we're no longer snagged on SnAgCu. Many companies and technicians are switching to SnCu (99C), which is cheaper and looks much better when it hardens. See the difference: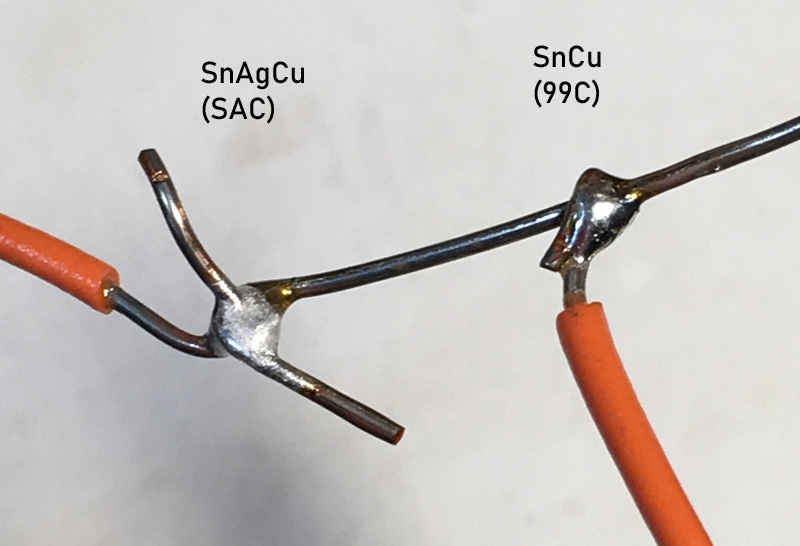 Note: It turned out that all of these were soldered at lower than recommended temperature. See other entries (above) for further notes.
This is with Radio Shack brand SnCu solder whose exact composition I do not know. But the key difference is, SnAgCu supposedly bonds better but looks worse; SnCu looks better, and we can actually see whether it has bonded well. That may make up for the slightly greater difficulty in getting a good bond.
That's not the end of the story. Lead-free solders are notoriously finicky, and metallurgists have discovered that small amounts of impurities have been having large effects. Leave it to Kester (the main American solder maker) to find out what impurities help, and deliberately add them. Kester K100LD is SnCu with tiny amounts of nickel and bismuth added. I hear nothing but good things about it. I'll have some in a day or so and will be able to report on how well it works. See Kester's technical reports here and here.
Update: K100LD is probably the best lead-free solder I've tried. The iron must be hot enough, and the solder must be fed to it slowly.
And that's still not the end of the story. People are just now realizing that you need plenty of flux and we had been trying to use far too little of it. Traditional lead-based solder is about 1% flux, provided in the hollow core of the solder itself. SnCu solder needs to be (and the one I linked to is) about 3% flux. What's more, a new kind of flux is on the market, gelatinous and not strong-smelling. I got some from Caig, and it works well. Louis Rossmann actually practices immersion soldering — he puts down a thick glob of flux, melts it, and solders right through it. This makes solder stick only to metal, not to anything else, and he gets neat results.
That's still not all. Multicore solder is back. I bought some in England in 1978, found it very good to work with, and couldn't get it when I came back to the USA, even though it had been marketed here earlier. Now Loctite has bought the brand, and you can get it again. Marketing in the USA is spotty, but you can definitely get the lead-based kind, which I'd stock up on if I didn't have a lifetime supply of some Kester products. They also offer some lead-free alloys, but I'm not fond of SAC; their SnCu (99C) is hard to get; and among suppliers I find real confusion as to exactly which product they are supplying and how many cores it has. The goal of the multiple cores is of course to deliver plenty of flux.
Another tidbit I picked up is that I was probably using too small a soldering-iron tip. Bigger tips deliver more heat. And there's a new type of soldering iron (example: Pace ADS200) that gives much better temperature control because the sensor is in the tip. My soldering station is a Weller EC2000 that someone else discarded about 25 years ago. It works, but I'll probably upgrade some time before long.
There are two ways to use a temperature-controlled iron. My own approach has always been "hot and quick" — set to a high temperature (400 C) and solder quickly. Many agree with me that it is easier to overheat things with an iron that's too cool than one that's too hot, because the cool iron has to be held on them longer. Of course, "hot and quick" is the natural approach for someone who learned using unregulated irons half a century ago; all soldering irons were too hot then.
Today, however, there are situations where it's hard to avoid prolonged heating of parts. When that is the case, the approach is to set the iron just barely hot enough to melt solder (300 C or even 250 C) and work more slowly, knowing that most parts are rated to survive an internal temperature of 260 C for 10 seconds or more.
---
---
The L in solder
Why do Americans pronounce solder as "sodder"?
It turns out that the answer is the same as why we pronounce salmon as "sammon."
The word was borrowed from French, in which al and ol had already turned into au and ou, respectively, in some contexts. It was soudur when we got it from French. (Salmon, the fish, was saumon.)
Then someone noticed that the original Latin word had an L (solidare 'solidify' for soldering; salmo for the fish) and put the L back in. I'm not sure, but some evidence seems to indicate that in the case of solder this re-Latinization took place in French as well as English, at least for a while (the French today call solder soudure, so it didn't stick).
So in this case the Americans seem to be using the older pronunciation.