Busy times and a plethora of astrophotography
I'm back... All of a sudden, instead of incessant cloudy weather, we've had a succession of clear nights, and I did astrophotography on four consecutive nights (all of it lunar and planetary work, from home). Scroll down to see the fruit of my labors.
And tomorrow (Oct. 5), Melody will get a birthday present — cataract surgery on her other eye. She will then have better vision than she's had for years if not decades. We joke that each of us got a new lens for our birthday — mine for my camera — hers for her eye.
For future readers who want to know what life was like in the plague year, I note that the coronavirus epidemic is continuing, and much of the country is having a third wave of it, but in Georgia the infection rate has fallen off nicely. We still limit trips out of the house and wear masks when out in public. Now that most people know someone who has been severely ill or died of coronavirus, we're not encountering so many rabid anti-maskers.
For no good reason, anti-mask sentiment and disregard of the hazard has become associated with conservative politics, and Republicans proudly doff their masks at party gatherings. And now President Trump is in the hospital with coronavirus. Proof that choosing not to believe in the hazard does not protect you from it.
More generally, you can't make problems to away by choosing not to believe in them.
---
---
Beyond Mare Crisium
As you know, I've made a minor hobby of photographing the region of Mare Orientale on the moon, which is only visible when the non-circularity of the moon's orbit tips the region slightly toward us; it's on the edge of what we can see.
Right now the moon is tipped the other way, and here's what's on the other edge: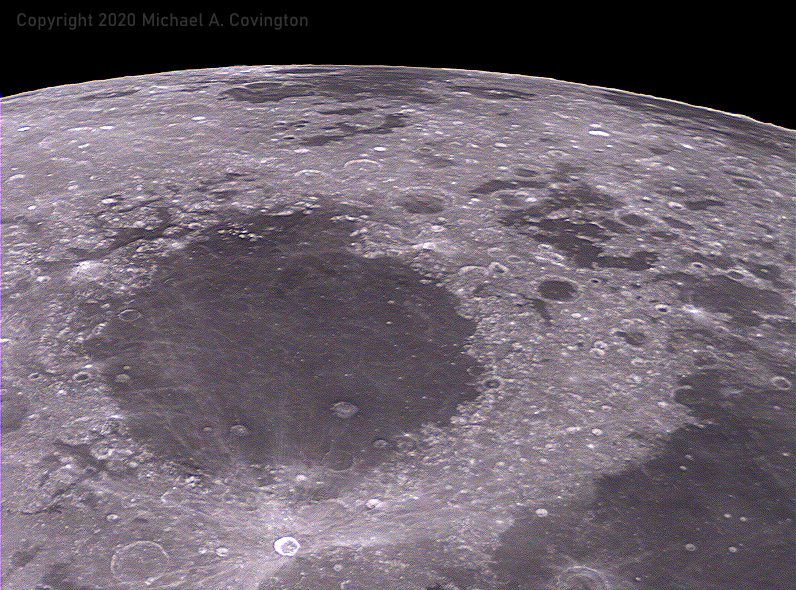 The large round dark area is of course Mare Crisium, easy to see as the "eye" of the face in the moon, which you can see with the unaided eye; it's conspicuous any time the moon is in the evening sky. Beyond it is the appropriately named Mare Marginis ("sea of the edge").
8-inch telescope, ASI120MC-S camera. Like all the lunar and planetary images here, this is a stack of thousands of video frames, sharpened by wavelet processing.
---
---
Mars
Mars is now unusually close to the earth and looks like a bright reddish star high in the sky late at night. (It doesn't look like the moon; it never looks like the moon; a press release in 2003 said Mars would look as big in a 75-power telescope as the moon without a telescope, and someone copied it leaving out the telescope!)
Because the rotation period of Mars is about 24 hours, we see almost exactly the same side of it if we observe it at the same time of night on consecutive days. So here are a couple of pictures and a map. The map is generated with WinJUPOS software and a file I made containing a labeled map instead of the usual unlabeled one (more about that here).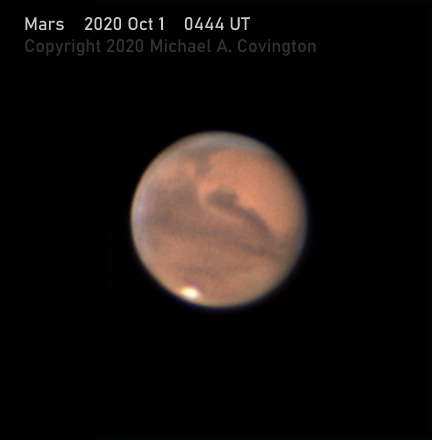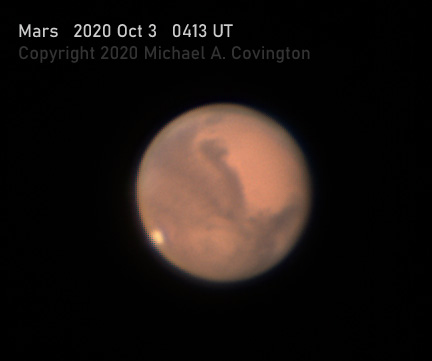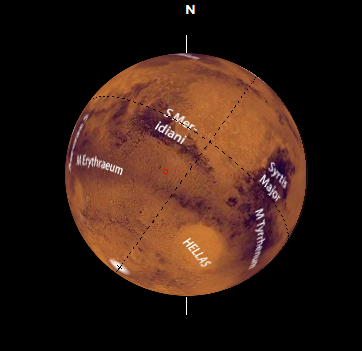 8-inch telescope (Celestron C8 EdgeHD), 3× focal extender, ASI120MC-S camera. Stack of thousands of video frames, wavelet-sharpened.
The exciting thing about Mars is that it's the only planet on which we can easily see surface detail. Venus, Jupiter, Saturn, Uranus, and Neptune are shrouded in thick atmospheres. Mercury is small and hard to see from earth; the dwarf planets are even harder to see.
The surface features of Mars do change from year to year as dust and sand are blown around by the wind. Mismatch between the map and the photographs does not mean the map was wrong when it was made.
In the past, writing about history of amateur astronomy, I noted that from about 1900 to the beginning of the space program, lunar and planetary work was in amateur hands; professionals were focused on spectroscopy and astrophysics. In Planets and Perception, William Sheehan points out one reason why this was so. For decades, in the popular and even professional mind, planetary astronomy was associated with Percival Lowell's speculations about canals and Martians. It was almost like a UFO cult.
Suddenly the space program turned planetary exploration back into serious science. In later years we've seen a merging of planetary science with geology — which makes sense.
---
---
Jupiter
Jupiter is now high in the evening sky right after sunset. You can tell that the sunlight isn't hitting it straight on; the right edge in the picture is the sunlit side. Jupiter's satellites often cross in front of the planet or cast their shadows on it. The Great Red Spot is still there, and still red, but much smaller than when I first saw it half a century ago.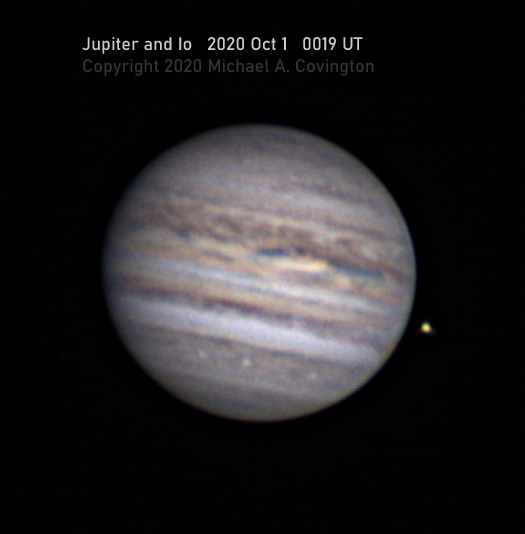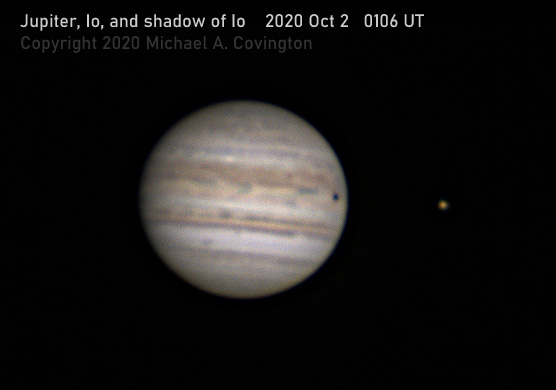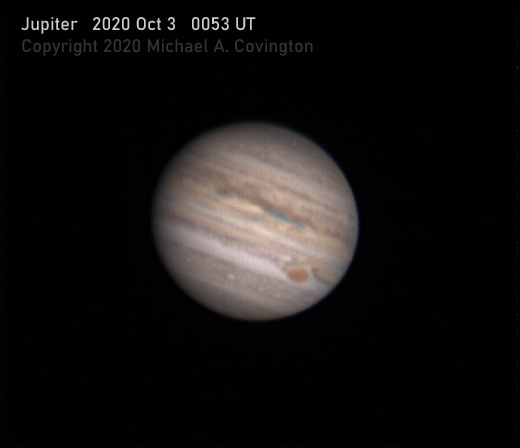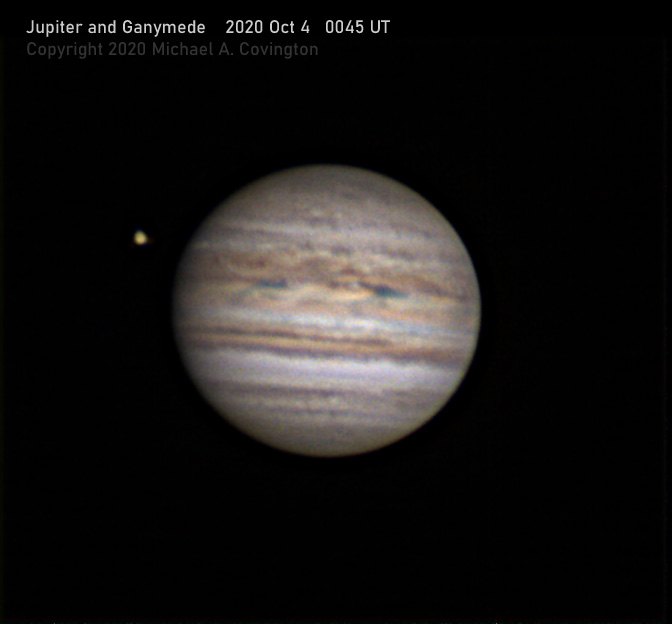 These pictures were also taken with my 8-inch telescope, using stacked video frames. Here you see some variation in the software settings that I used when processing them. Just like a film photographer making a print of a negative, a digital astrophotographer has to make decisions about the contrast and color balance of the finished picture. The steadiness of the earth's atmosphere, through which I am taking pictures, also varies from session to session.
---
---
Saturn
Saturn is up there right next to Jupiter; the two planets happen to be almost the same direction from earth right now. (That means that in a few months, we won't be able to see either of them, which is a pity; they are similar, and the same astronomers tend to be interested in both of them.)
The hard part about photographing Saturn is that it's about twice as far from the sun as Jupiter is, and so only a quarter as brightly lit. I have to take longer exposures, capturing fewer video frames. But it rotates at the same speed as Jupiter, so with either planet, I can't expose more than about two minutes without blurring the details on the surface (of the upper atmosphere) — when there are any details; Saturn is striped, not spotted.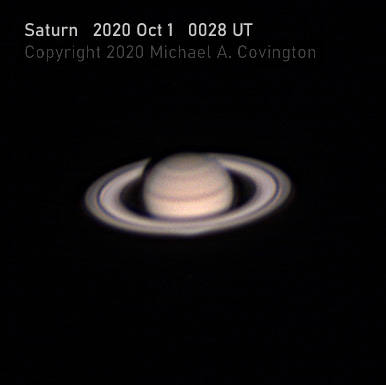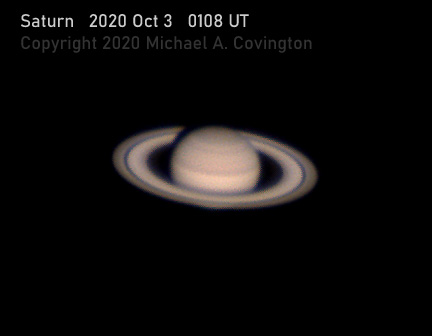 Same technique: 8-inch telescope, focal extender, and video camera.