Stained Glass Kaleidoscope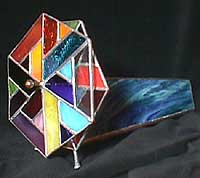 This beautiful kaleidoscope is one of the most impressive pieces in my collection. The two stained-glass wheels are over seven inches in diameter—this 'scope really dominates its table! The view through the eyepiece is just as spectacular. The solder ribs lend a wonderful geometry to the patterns.
I won this kaleidoscope at auction on eBay. It was a bit of a "fixer-upper." There was a heavy accumulation of dust inside the unsealed tube and the wheels were warped. I enjoyed cleaning and repairing it!