22nd Anniversary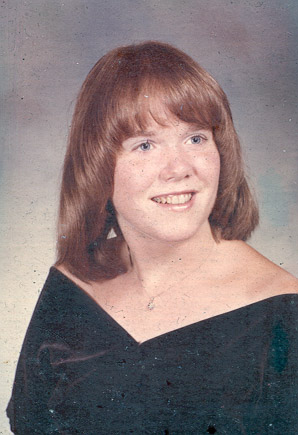 Twenty-two years ago today, July 25, 1982, Melody and I got married at her church in Winder, Georgia. We have been (and still are) a very happy couple. Actually, neither of us could imagine being married to anyone else.
We have been best friends even longer than we've been married. Here is the history of how we met.
In October 1972, I visited The University of Georgia as a high-school student in line to get a National Merit Scholarship. That day (I think it was the 28th) I decided to come to Georgia rather than some other university (actually, my alternative plans were very vague).
And on November 8, 1975, I attended the same annual event again as a University of Georgia student, to help recruit more National Merit Scholars.
It was early in the morning; we were in the lobby outside the Law School Auditorium, and the visiting students were coming in, most of them accompanied by entourages of parents, kid brothers, etc. Over in the corner was a nice-looking girl who had no entourage. I saw my duty to the University and did it.
She introduced herself as Melody Mauldin, of Winder, Georgia, and I took good care of her all day. Then she went back to Winder and we wrote letters to each other (admittedly a primitive technology, but in those days there was no e-mail, and even a phone call over that short distance cost about 25 cents per minute).
We started dating in May of 1976 after she arranged to meet me on two subsequent visits to the University. Then I looked at a map, found that Winder was much closer than I had thought, and pursued the opportunity.
Here you see Melody's high-school portrait, which I've carried in my wallet since 1976, although I've digitized it a couple of times just in case the original deteriorates or is lost.
Recently, reading one of these Reader's Digest articles on how to have a successful marriage, Melody and I concluded that we had a successful marriage by the end of our first or second date. The immature stages that people talk about just didn't happen; no games, no manipulation, no rivalry. (Maybe we had a good marriage even before we met, and we were each waiting for the other half of it to come along!) We were best friends from the start, as well as lovers, and it gradually became evident that neither of us could ever marry anyone else!
We were at Georgia together for a year (1976-77), and then Melody patiently endured five years of intermittent separation while I was at Cambridge and Yale. By then we were sure we were a permanent couple. We got married in 1982 and spent our honeymoon driving to Los Angeles, where I took up a postdoctoral fellowship at USC. In 1984 we came back to Georgia; Cathy and Sharon were born in 1985 and 1988 respectively. And, as they say, "the rest is history."
I should add that we didn't live together or "fool around" before the wedding. Our wedding night really was our wedding night. We both believe very strongly that if you don't have sexual self-discipline before marriage, you won't have what you need within marriage either. And neither of us can imagine being bonded to anyone else. We're not two people who just happen to be together; we're (as the Bible puts it) one creature.