Eclipse observing log
The following are my notes, essentially from my astronomy notebook, although nowadays they are kept in digital form. I've added a few pictures.
These are my detailed observational notes, written 2 days after the eclipse, based partly on audio recordings made immediately after the eclipse. These notes are written in HTML so they can also be published as an entry in the Daily Notebook.
My goal was to take competent (not exceptional) photographs and see the eclipse visually.
Other logs: Besides these brief, structured notes, I have a file-by-file log of all the digital images, generated with EXIFLOG, and a set of audio recordings. The most important audio recording goes for 27 minutes starting about 20 minutes before totality and contains an accurate time signal near the beginning. At that time I was speaking on the PA system to point out important events as they occurred. I have been told that some of my words were broadcast by WSB Radio.
Click here to hear my narration of the beginning of totality.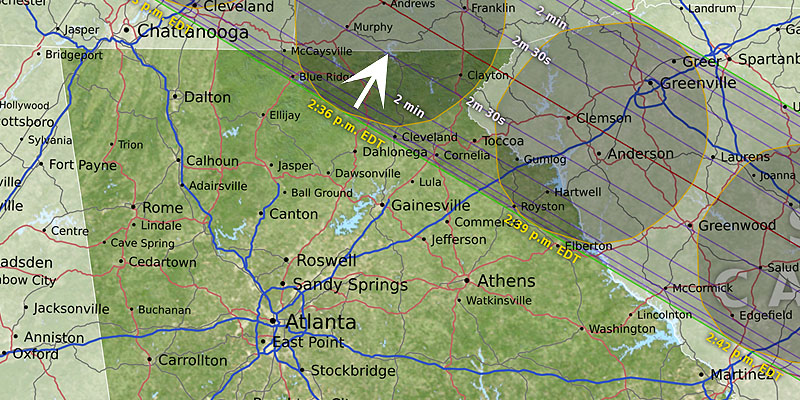 NASA map with Hiawassee indicated.
Eclipse data: At Hiawassee, totality was predicted to start at 2:35:01 p.m. and last 2 minutes and 27 seconds, according to eclipse2017.org. I had with me a watch set accurate to the second.
Site: I was in the upper parking area of the Georgia Mountain Fairgrounds, just south of the pavilion and just west of the rhododendron garden (Hamilton Gardens), with my equipment set up on the grass. Google Maps gives the latitude and longitude as 34°58'02.5"N 83°46'16.2"W (34.967354, -83.771172).
Google Maps does not give altitude. Elevationmap.net gives the altitude as 1970 ft = 600 m.
The site has street lights which did not come on, thank goodness. My understanding is that they are on a switch because they are not used when the fairgrounds are not in use.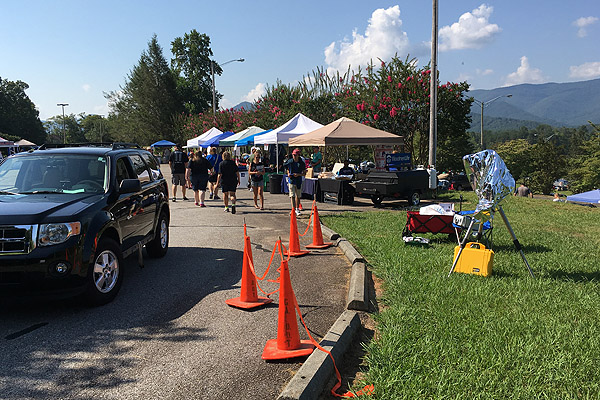 Setting up (11 a.m.). My telescope is protected by a "space blanket" of aluminized plastic.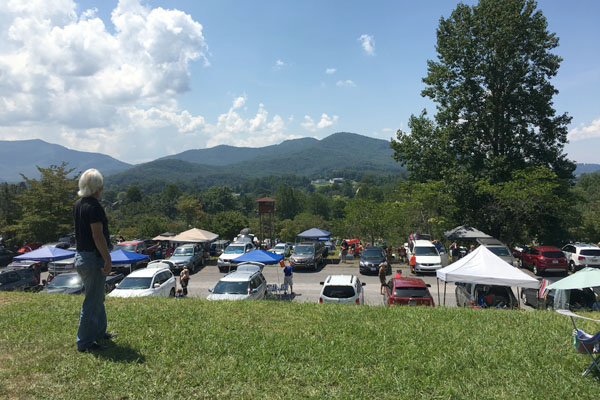 Looking west (downhill) from my setup. Note clouds starting to form.
Travel and local arrangements: I was there as the "eclipse scientist" for the organized public viewing event; I thank the Chamber of Commerce for their hospitality and Candace Lee in particular for her hard work. I stayed in the Lake Chatuge Lodge, a good hotel next door to the fairgrounds.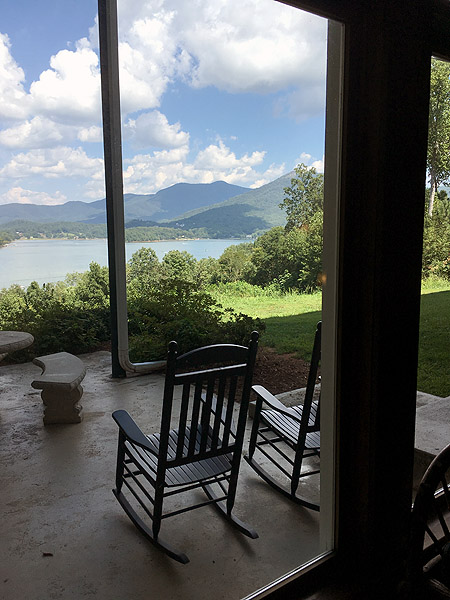 Back porch of the Lake Chatuge Lodge.
Weather: Clear with slight high haze; during the partial phases, cumulus clouds began to approach from the south, and at totality, there was a large cumulus cloud bank to the south, up to more than 45 degrees above the horizon, but not blocking the sun. After totality, the clouds moved north, and we missed most of the partial phases after totality. The National Weather Service recorded a clear sky until 6 p.m. at Andrews-Murphy Airport, about 30 miles north of us, in somewhat different terrain.
Temperature at Andrews-Murphy Airport, according to the National Weather Service, peaked at 87 F around noon and dropped to 77 F right after totality, then came back up.
Equipment: Celestron AVX mount with one small iOptron counterweight, AVX tripod, Canon 60Da, Canon 300/4 telephoto lens (used at f/10), Thousand Oaks Solarlite filter (for partial phases), Canon cable release.
The mount was powered by a 17-AH battery pack, which barely showed any depletion after four hours of use.
Daytime polar alignment: Altitude by using the iPhone as an inclinometer, and azimuth by drift method on the sun. Finding true north with the iPhone compass and with a separate conventional one was difficult because of something magnetic in the area, possibly on my person.
Partial phases: Thousand Oaks eclipse glasses gave a very sharp view, and I was able to see the sunspot group with no further optical aid. I also got hold of one pair of glasses, called "Eclipser," possibly counterfeit, that were too dark (density 6.5 to 7.0, I estimate). Counterfeit ISO certifications and uncertainty about eclipse glasses were major problems at this year's eclipse.
Shadow bands: Seen briefly (for 15 seconds) starting about 35 seconds before totality. Much less of a show than at the 1984 annular eclipse. That may be partly due to the slightly hazy sky. Also, at a deep annular eclipse, the sun remains a narrow sliver for a longer time.
Baily's beads: Not observed, or not distinguished from diamond ring effect. Others' photographs show Baily's beads as a small cluster of beads close together.
Diamond ring effect: Dramatic at both the beginning and the end of totality.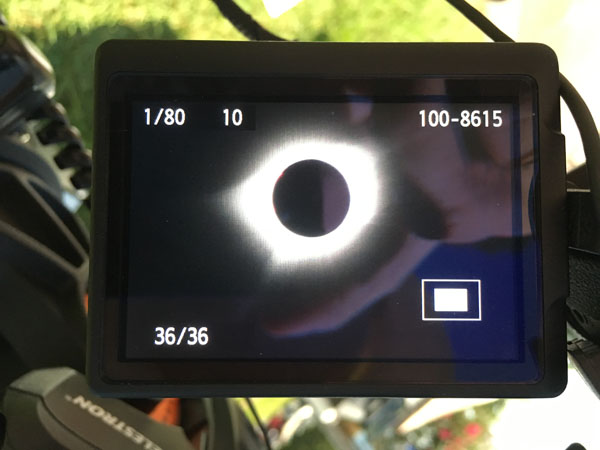 Success!
Sun during totality: The corona was very bright close to the sun (out to maybe 1/4 solar radius) and then trailed off more sharply than photographs lead one to expect. Although I mentioned coronal streamers in my audio narrative, I have no distinct memory of seeing the corona extending more than maybe one solar radius from the sun. The corona was more active than it could have been at this point in the sunspot cycle, but still rather compact compared to other eclipses.
A prominence was clearly visible to the naked eye at the 5 o'clock position (to the right of the southernmost point on the limb). I saw some indication of other prominences also.
I wish I had taken pictures with shorter exposures. My shortest exposure (1/80, f/10, ISO 800) shows the inner corona well; longer exposures added lens flare without picking up much more corona, and no exposure was short enough to catch the prominences properly.
Memorandum: There are two astronomical subjects that bring out lens flare: the Pleiades and a total solar eclipse. (The Pleiades are a star cluster that includes some rather bright stars.) I was not sufficiently forewarned about solar eclipses. Next time I'll probably use my apo refractor and test it taking overexposed pictures of the moon.
Allocation of time: Once I saw I had a successful digital image, I refined the focus and spent too much time photographing, not turning fully to visual observation until about 45 seconds before the end. In the future, I will use computer control to automate the camera.
Another blunder was leaving my binoculars too far away from where I was standing, so I could not grab them during totality.
Sky during totality: I was surprised by the high light level, both from the bright inner corona and from sunlight around the horizon and dim light on the cloud bank (which looked more than moonlit, less than sunlit).
Venus was very conspicuous in the west. Jupiter, low in the east, was clearly visible. I did not try to identify other planets or stars.
Some kind of aircraft with red and green lights was hovering very quietly in the southwest, apparently below the cloud bank. It has been suggested that it was a drone (a quadcopter) and was only a few hundred feet above the fairgrounds. That is quite possible.
After totality: The clouds moved north and obscured the sun.
Traffic and infrastructure: The drive up from Athens, via Highways 441 and 76, the day before the eclipse, was uneventful and there was no traffic congestion. The trip back home, however, was difficult. Hiawassee to Clayton was all right, but from Clayton to Tallulah Gorge we crawled at an average speed of 6 mph. (I assume people from other sites were coming down on 441.) North of Tallulah Gorge I took a "long shortcut" on the old Highway 441, passing by a hydroelectric plant and a recreation area; when I rejoined new 441, traffic was moving much better, though still occasionally congested, and I completed the drive in less than 6 hours. However, when I crossed I-85 at 9:15 p.m., the inbound lanes (toward Atlanta) were still bumper-to-bumper.
Internet and cell phone infrastructure were predicted to be congested, but in fact I had no trouble with cellular telephony at the fairgrounds and was able to connect to the Internet through the iPhone and e-mail pictures to the Athens newspaper.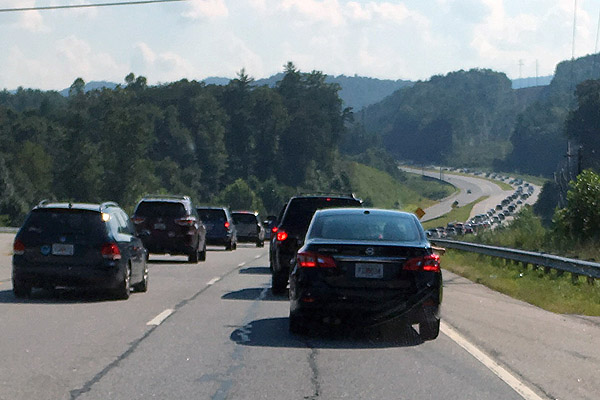 Next: Texas in 2024? Chile in 2019?