Life in wartime, continued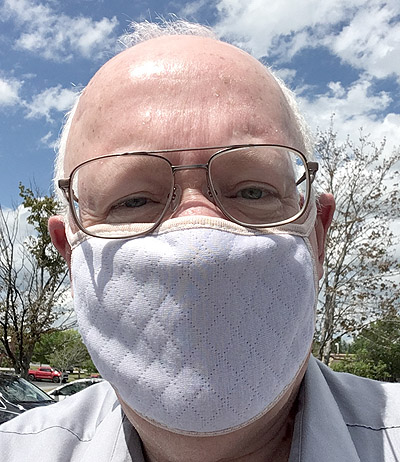 Pro-tip: If your daughter gives you a feminine-looking pink mask, you can wear it inside out as a white mask.
We've had new directions from the governor (archived copy here), and, basically, he's changing the restrictions so they are based on sanitation rather than type of business. I think that is a good thing. There's no reason a barber shop can't be as sanitary as a grocery store if it wants to. At the grocery store, you're exposed to a vastly larger number of people's germs.
Contrary to press coverage, Georgia is not "opening everything back up." Georgia is changing over to a more sustainable set of restrictions.
In the long run, sanitation is going to be what saves us. The WHO reports that infection by COVID does not leave people immune. That means "herd immunity" isn't going to work (and, anyhow, millions would have to die before that was achieved). Herd immunity through vaccination is what we hope for; but in the meantime, the winning tactic is to cut down the spread rate so that the virus becomes rare.
The spread rate, R, is the average number of new cases that arise from each case. For COVID it is believed to be about 2.5. That's why it spreads so fast and why we have lockdowns.
Suppose R were 0.5; that is, only half of infected cases led to new cases. Then the virus would die out. In fact, anything below 1.0 will make the virus die out, although obviously, the lower we get it, the faster we win.
And I don't think it's too hard to get R down from 2.5 to less than 1. That is not a huge decrease. It's not hard to reduce your exposure to 1/10 or even 1/100 of what it would have been without precautions. Wash your hands more, avoid crowds, and get other people to do the same.
I think we are headed for a permanent change in many of our national habits. Crowded bars, restaurants, and parties are things we are going to have to view as risky for a long time to come. Young people's social life will be particularly affected. At the other end of the age range, nursing homes need to be smaller, or divided into sections. Enormous high schools aren't such a good idea; nor are enormous churches. In fact, churches are going to need to rethink the role of gregariousness, large crowds, and "small groups" — I'll write more about that later.
[Update:] In the original version of this article I followed numerous other articles that said R0 or R0 instead of R. More properly, R0 is the initial value of R at the beginning of an epidemic, before anything has happened to modify it.
---
---
Why modeling the epidemic is so hard
Many of us have been frustrated, or at least bemused, by the way the IHME models change so much from week to week. First we've already peaked, then we're going to peak in two weeks, then we don't know where we stand, then it flips back again... I want to share with you some mathematics to demonstrate why modeling is so hard.
Here's the Georgia raw data for the past few weeks: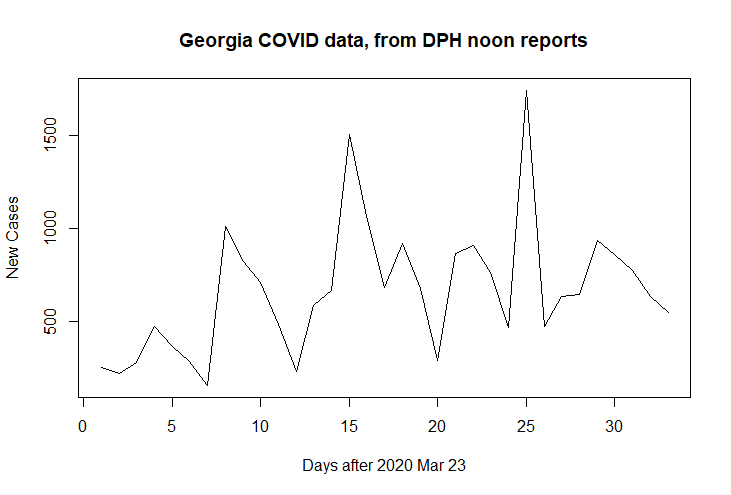 Now, clearly, we are looking at noisy data. Even if the case rate were basically constant, we wouldn't expect exactly the same number of cases every day; there's an element of chance involved (what statisticians call a Poisson distribution). In addition, cases don't always get reported promptly. Earlier statistics suggest that there is underreporting on weekends and a catch-up on Monday or Tuesday.
So... Is the trend up or down? How can we smooth out the irregularities and see?
One simple tactic is to take a moving average, in this case a 3-day moving average Average each day's number with the two days either side of it. That will smooth out the weekend lag-and-catch-up, as well as generally making things more even. So here it is: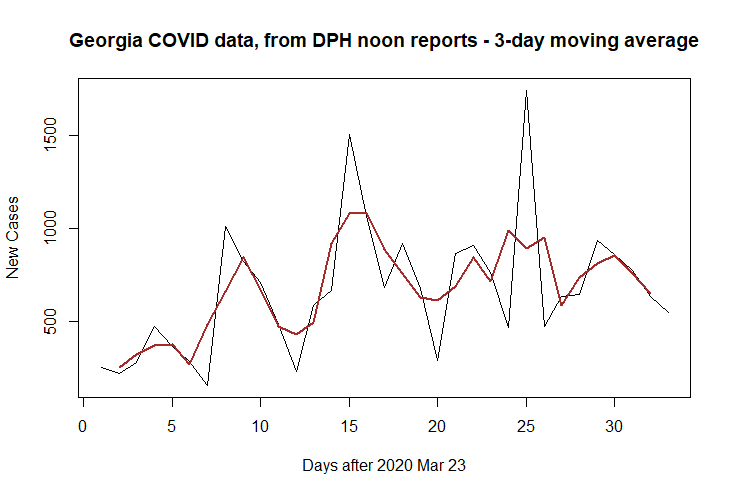 That's a little better. The biggest thing it tells us is that the spike on day 25 is compensated by unusually low values on the days before and after, so it isn't really a spike. In fact, this is apparently the analysis used by Georgia officials to argue that we meet the federal guideline of a 2-week downward trend.
We can do better by adding some knowledge. We know what other epidemics are like, and we know what this epidemic is like in other places. We expect a definite, smooth hump, not unlike a bell curve. (If there is going to be a second hump, it definitely hasn't shown up anywhere yet, so we won't look for signs of it here.) If we bring in the assumption that there is a hump, can we ask where the hump is?
Yes. Clay Turner suggested that I fit to the data a quadratic equation (a parabola), which is a single symmetrical hump. That will tell us where the peak is and whether the peak is sharp or flat. The peak could perfectly well be off center, even off the whole graph, or even upside down. What a quadratic cannot do is give us multiple peaks or even a lopsided peak. So I also fitted a cubic equation, which allows the peak to be lopsided and even allows two opposite peaks, one right-side-up and the other upside down.
Here you see the quadratic in red and the cubic in green. They agree very closely.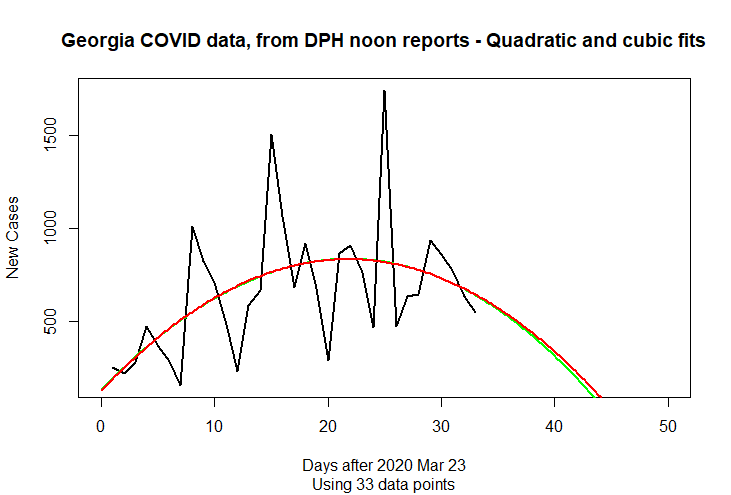 So you might think we have a simple, clear answer: the numbers peaked on day 22 (April 14); as of today we have an 11-day downtrend; and we'll be down to half of maximum by day 41 (May 3).
But wait a minute. What if we didn't have the last two days' data? They are particularly low numbers, but they may be low because it's a weekend. So let's run it again with just the data we had 2 days ago: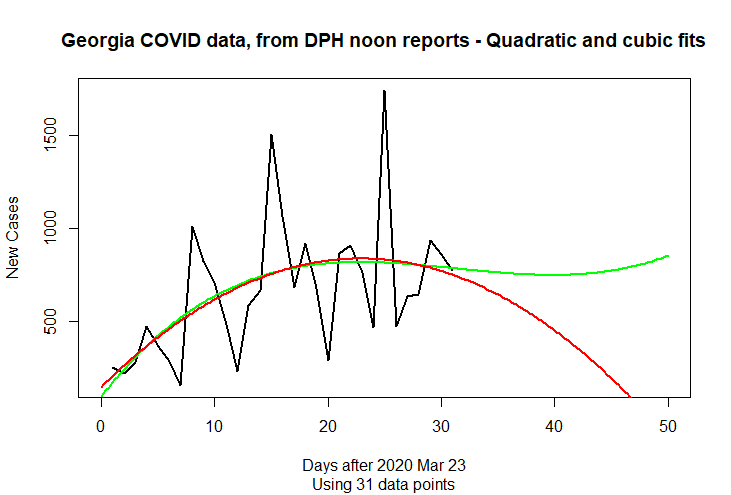 Whoa there! The quadratic is not too different, but the cubic doesn't agree with it; it seems to think the curve hasn't peaked, merely flattened! The upturn at the far right means little, but the cubic equation certainly doesn't recognize a definite peak.
Even the quadratic has shifted and now puts the peak on day 25, not 22.
This is why the IHME models are so fickle. Small changes in the data can cause big changes in the model. Now in this case, there are good reasons to believe the quadratic is more accurate than the cubic. But the failure of the two to resemble each other should give us pause. The quadratic assumes a single hump; the cubic doesn't see one.
It is, of course, possible to do much worse. Suppose we were to fit a 10th-degree polynomial (allowed to have 9 humps). Here's the absurd result: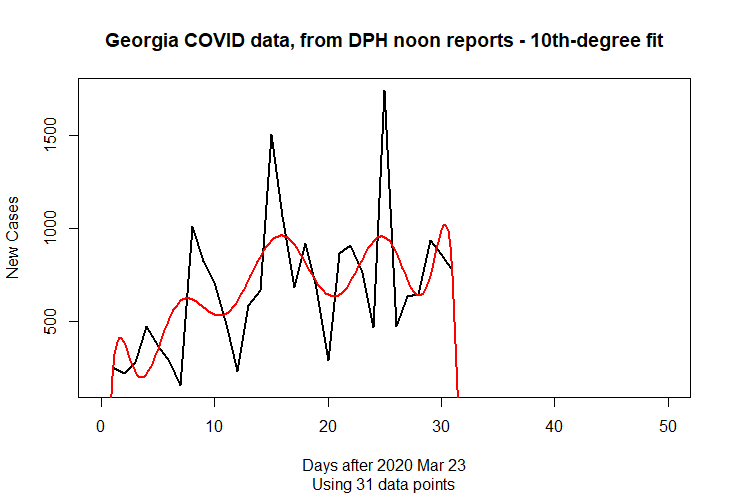 Obviously, the numbers weren't really super-low before the beginning of the series, nor do we expect them to plummet right after the end. The goal of the model was just to keep the curve as close to the data as possible, and it doesn't care what happens outside the range. You can see all 9 humps, four of them upside down. That's what high-degree polynomials are like.
If you'd like to experiment with this kind of modeling yourself, the R code and a sample data set are here.