Three tips for getting reliable information — no, four
COVID continues to be bitterly controversial, and as various theories and claims are passed around, I have three pieces of advice for the reading public — no, four.
Tip #1: Claims aren't true just because they cite sources or bibliographies.
It is always better to cite sources than not to. But sources need to be checked out. Are the sources good? Do they actually say what the author claims? And are they cherry-picked to leave something out? What else ought to be there and isn't?
I've seen quacks try to impress people with citations of prestigious medical journals while counting on you not to actually look them up.
Tip #2: Every statistical study (e.g., of medical treatment) has a chance of getting the wrong answer because of random variation.
That's why you have to look at all available studies, and not just pick one that gives the answer you want.
The chance of a wrong answer is estimated to range from 5% (on strict Fisherian principles) to as high as 30% (taking Bayesian effects into account).
And the purpose of statistical studies is not to get statistics, but to figure out how things work. Science progresses by combining many separate results.
Tip #3: When someone commands you to "Do your research" or "Watch this video," you don't have to obey.
"Do your research" has become almost a tag-line of the loony right. Some people try to silence all critics by saying they haven't done their research.
The implied claim is, "This is true unless YOU can prove it's false."
No. It's false unless THEY can prove it true.
The burden of proof is always on the person making the claim, not the person who is skeptical of it. Otherwise we'd all have to labor all day refuting every strange thing anybody ever said.
And here's a fourth tip:
Tip #4: Scientists are supposed to change their minds when they get new information.
I've heard people claim "we were being lied to" when we received recommendations about the virus back in March that aren't the same as today's recommendations. Or else that the new recommendations are lies because "the truth hasn't changed."
The truth hasn't changed, but our knowledge of it has improved. Remember, COVID-19 wasn't discovered until December or so. More is known about it now than then.
The two most important discoveries are: (1) masks do more good than people first thought, because transmission is mostly through exhaled droplets; (2) "herd immunity" isn't coming, because the virus apparently doesn't give lasting immunity, so instead, we must kill off the virus by cutting down its spread.
---
---
Let's not forget there was a lockdown...
What do you think of the following logic?
(1) I was thirsty.
(2) I drank water.
(3) I am not thirsty now.
(4) That proves I didn't need to drink water.
Not very good, is it? But I have heard that argument about the COVID lockdown.
There are legitimate reasons to ask whether a less strict lockdown would have done nearly as much good and would have had other benefits. But I've seen something much more naive. It was simply a chart of death rates (with the lockdown) and an analysis ignoring the fact that the lockdown took place.
The epidemic was growing explosively in March, and its growth was arrested. The new second wave, though regrettable, is not like the initial explosive growth. Read on for a little more about that.
---
---
Do we compare amounts or rates?
Which is worse, having 1000 cases and adding another 1000, or having 10,000 cases and adding another 1000?
Both are bad. But the first one reflects a kind of rapid spread that the second one doesn't.
That's why there are two kinds of graphs of the spread of COVID. Linear-scale graphs go up the same amount for the same number of cases. Every time you add 1000, the curve goes up the same amount.
Log-scale (logarithmic-scale) graphs go up the same amount for the same proportion of increase. Every time the amount doubles, the curve goes up the same amount.
Somehow, a lot of us switched from using log-scale graphs early in the epidemic to using linear-scale graphs now. That conceals how bad the initial explosive growth was compared to what we have now.
Here is the U.S. total number of new cases daily, smoothed with a 7-day moving average, using a linear scale. You can see that we've added as many cases in the second wave as in the first.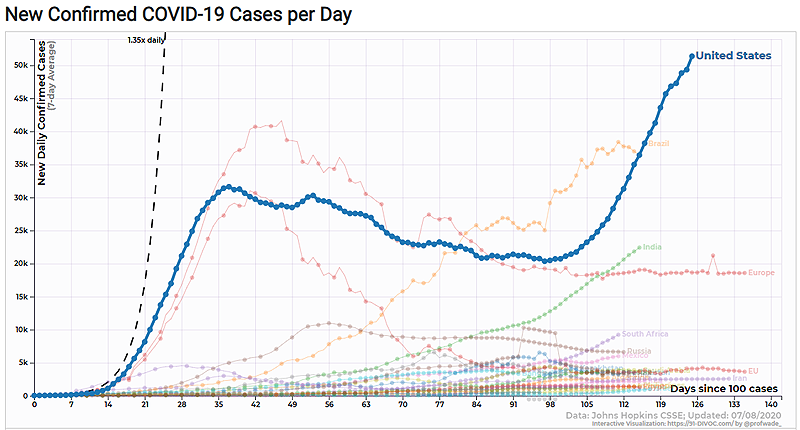 That is sad — I want this epidemic to end! — but now look at it on a log scale: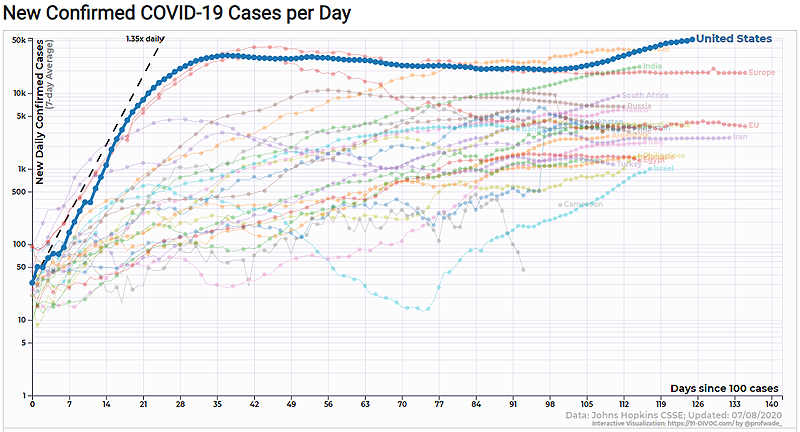 Here you can see that in the early days, we had explosive growth that we don't have now. The number of cases was doubling about every two and a half days. It's not doing that now.
What next? Now that we know more about how the virus is transmitted, what I want my fellow citizens to do is wear masks and avoid crowds. We need to get the spread rate (R) down below 1.0 so the virus will gradually go extinct. That is easily within reach if we'll do it!
---
---
And one more spooky thing about COVID
[Updated.]
One strange but heartening thing about COVID is that the death rate is plummeting. In April, nationally, about 7% of the people diagnosed with COVID died of it. Today, 1%. And both in Georgia and nationally, the actual number of deaths is going down even while the number of cases is going up sharply.
This is surely the result of several things, among them:
(1) The tragedy of the nursing homes is past us. Reportedly, over 40% of U.S. COVID deaths were in nursing homes! And many were attributable to the tragically bad decision to send COVID patients to nursing homes for convalescence. Nursing homes are not equipped to contain contagious diseases.
(2) More generally, COVID is moving into a younger and less vulnerable segment of the population.
(3) Medical treatment is surely better now that doctors have more experience with COVID.
(4) Death may be more delayed due to medical progress and/or younger and more vigorous victims. If the length of time that it takes to die is gradually being stretched out, that will drive down the death rate, and will also mean that we are now seeing the death rate that belongs to the lower case rate that we had in May rather than the current case rate.
(5) At least conceivably, the virus may have mutated to become both more contagious and less deadly. This is speculation on my part. But most mutations make an organism less powerful, simply because they are random changes.
(6) It looks as though increases in testing are not the explanation. The total amount of testing has only gone up modestly in most places, and the percentage of tests coming back positive has not gone down. (Georgia's has gone up a little.)
This is only a guess, but I speculate that (2) and (4) are the biggest factors, and (2) can backfire, because older and more vulnerable people can catch the virus from young people who are spreading it with abandon. At many colleges, many of the older faculty are afraid to go back because they don't want to be in the younger people's germ pool. We may see some unplanned, economically costly retirements of highly productive older workers in many fields, not just academia, because people my age want to get out of the germ pool!