Let's target .NET Core
The other day my employer asked me to switch my software over (retarget it) so that it runs under Microsoft .NET Core 3.1 instead of Microsoft .NET Framework 4.6. That led me to learn a lot of important things. Today's Notebook entry will be a series of articles about them.
A pleasant surprise
One of the things I discovered was a complete surprise, not even mentioned in Microsoft's documentation. The FolderBrowserDialog has finally changed from the old Windows XP tree diagram to a much more versatile "Vista-style" dialog box like what non-.NET applications have been able to use for a long time.
The old way: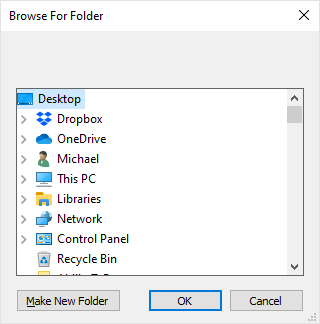 The new way: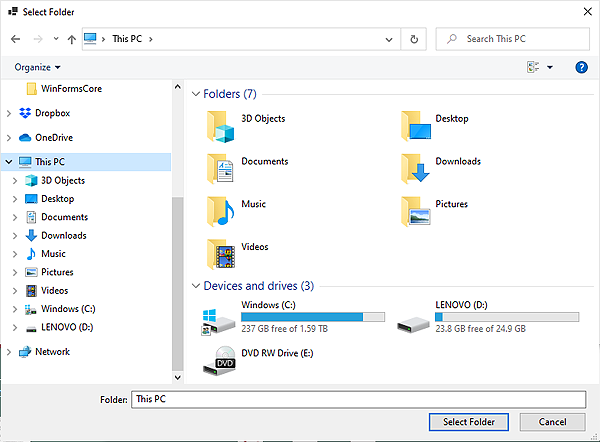 There have been various contrivances to get the new-style dialog in .NET Framework (click here to get one I distribute), but it mystified me that Microsoft never made it available as a .NET component. In .NET Core, it silently replaces FolderBrowserDialog, with no changes needed to your code.
So what is .NET Core?
To explain .NET Core, I need to explain .NET Framework, which was introduced in 2001 and was being developed through last year — we're up to version 4.8.
Despite its name, .NET Framework has essentially nothing to do with networking. I always thought of it as an object-oriented operating system that sits on top of Windows and provides a fully object-oriented way for programs to communicate with the operating system and with each other. If a program needs to give the OS a list of strings, it can give it a list of strings, rather than (as in UNIX) a pointer to a memory location where there are strings separated by zero bytes.
Part of the payoff from object orientation is that almost all error conditions produce meaningful error messages. That's a huge benefit. Instead of "Illegal operation at 0x12345678" you get "Cannot take the average of a set of zero numbers" or the like. Sometimes the end-user can understand this; almost always, the programmer can. We get more reliable software that way.
.NET Framework also provides just-in-time compilation from intermediate code, so that existing programs can run efficiently on different and even unforeseen CPUs. (At the outset, that was mainly a way of bridging the gap between 32-bit and 64-bit Windows PCs.) And it provides a large, rich library of predefined routines, including two complete Windows GUIs, WPF and WinForms.
Enter .NET Core. Instead of an object-oriented OS sitting on top of Windows, .NET Core is meant to be an object-oriented OS sitting on top of anything. It's for multiple operating systems. Here's what it offers:
Under Windows, almost everything works just as before, including the two GUIs, WPF and WinForms. (A few things that almost nobody ever used, such as Windows Workflow Foundation, are no longer supported.)
Console programs also run under Linux, macOS, and (as I understand it) Android and iOS.
.NET Core is open-source. You can find out what's inside it and even port it to other operating systems without relying on Microsoft.
I think we've seen a shift in operating system architecture, where the OS is not the runtime support system for the programs, but merely a platform for it. We had this already with Java; Java programs require a Java runtime system to be installed on whatever computer runs them.
To put it another way, .NET is no longer the new native language of Windows, but rather an object-oriented programming system available on many operating systems and in many programming languages.
What it's like to use .NET Core
Here I won't go into the details of how to get .NET Core on your computer; Microsoft gives good instructions. Instead I'll describe what you do, more than how you do it.
To write programs in Core, use Visual Studio or various command-line compilers, same as under Framework, but make sure they are targeted for Core. (Options have to be installed in Visual Studio; just follow the menus.)
The biggest differences are that a compiled program is normally more than one file (not just a single executable), and we don't just compile, we "publish." Under Framework, "publish" means generate a ClickOnce installer, but under Core, "publish" means "put in a specific place all the files needed to run the program."
The following are some examples of what you do with what you "publish."
To run a program under Windows the usual way
The normal way to run a compiled Core program under Windows requires three files. If your project is named XXXXX, then the files are:
XXXXX.exe
XXXXX.dll
XXXXX.runtimeconfig.json
What's in them? Actually, the .dll file contains your compiled code. The .exe file is a customized version of part of the runtime system, to launch it. The .json file is small and says what version of .NET Core you're using.
To run the program, just launch the .exe file. If you do not have Core installed on your computer, you will be prompted to install it.
To deliver a program as compactly as possible
You actually only need two of those files:
XXXXX.dll
XXXXX.runtimeconfig.json
That's right — no .exe, just the .dll and the .json. Put them in the same folder, and then use this command at the command line:
dotnet XXXXX.dll
If you don't have Core installed on your computer, there will be no dotnet command.
To run a program under Linux or macOS
Install .NET Core, and then do the same as in the last step, using the dotnet command. Here you see a compiled C# program running under Linux Mint:

The program you're running must not use the GUI or any Windows-specific operating-system features. It must have been published for all platforms or for the platform you're using, not just Windows. The exact same .dll file runs under Windows with no change.
How to distribute your program as a single executable
You can compile a program into a single .exe file so that it looks and acts like a conventional Windows program. The three files (.exe, .dll, and .json) are, in effect, combined into one, with a minimum size of about 150 KB.
To do that, when you publish it, select a specific platform (usually Windows 64-bit). Then you will have the option of publishing the whole thing in one file.
How to make an .exe that doesn't even require Core installed
So far, I've been talking about framework-dependent compiled Core programs. Alternatively, you can make a self-contained program that carries .NET Core inside it. To do this, do the same as in the previous step, but select self-contained rather than framework-dependent. You will get a BIG Windows .exe file (about 100 MB) that runs without requiring Core to be installed on the computer. Not only that, but it ties your program to the exact version of Core that it was compiled with. This might be important when you need unusual security, reliability, or portability.
The future of .NET
.NET Framework is going away; it will be replaced by .NET 5, which is the successor to Core 3.1. Previews of .NET 5 are available now, and I need to start looking at them.
Some kind of interoperability with Mono (a cross-platform version of WinForms) is apparently in the works. I would like to see much more — I would like to see a Microsoft-supported GUI for all operating systems. That's the missing link in computer programming today.