Is the universe just someone else's computer simulation?
[Updated.]
A strange theory or hypothesis making the rounds is that we and our whole world and universe are just a computer simulation running in some gigantic computer somewhere.
This has gotten the attention of prominent science popularizers, including Neil DeGrasse Tyson, but I think it's hogwash. Admittedly I haven't heard everything they have to say about it, but I see no reason to believe any such thing. My critique of the Simulation Hypothesis is inspired by the one by Sabine Hossenfelder but not the same in all details.
Here's my take on it:
(1) There's no reason to believe it. "You can't prove it's false" isn't good enough. If you believe things just because you can't prove them false, you quickly end up with a mind full of beliefs that are almost certainly false but haven't actually been disproved yet.
And we've all seen what happens when "Believe it because you can't prove it's false" is applied to politics. That's how bizarre conspiracy theories thrive.
I am not aware of any positive evidence for the Simulation Hypothesis — any reason to believe it in the first place.
(2) It explains nothing.
This is actually just a subpoint of (1). If the Simulation Hypothesis explained anything, if it made our view of the universe simpler and more understandable (as, for instance, gravity does), that would be evidence for it. But it doesn't. As far as I can tell, the Simulation Hypothesis makes the whole problem bigger, not smaller. Instead of just explaining the universe, we also have to explain some unknown computer run by some unknown greater power. Obscurum per obscurius, as we say in the old country.
(3) It assumes consciousness can be created in a simulation.
Nobody has the faintest idea how to do that, if it's possible at all. Essentially, here someone is trying to cash an unsigned check.
The problem is that the actual experience of consciousness exists within what is supposedly a simulation — not just the simulated behavior of conscious beings, but the conscious beings themselves.
(4) It seems to assume that somebody somewhere has an infinite computer.
Not just a very large one, but one that is absolutely unlimited in size and accuracy.
The reason is that all simulations have some limit on their precision. Even when simulating something simple, such as the orbits of the planets, we work to, say, ten decimal places, not twenty or a thousand or a million. And even a million wouldn't be perfect. Yet we live in a universe with a seemingly unbounded size and amount of fine detail.
I suppose you could claim that the quantum level of our universe reflects the limit of precision in the simulation. (This is the only thing that could be a shred of evidence for the hypothesis, but it didn't convince Dr. Hossenfelder, and she's a top-rate quantum physicist.) All right then: in the "real" universe where the computer runs, is there a quantum level? Or is physics there entirely different?
Dr. Hossenfelder points out that the Simulation Hypothesis is like a religious belief. Indeed it is, and I would add that it belongs to a strangely unmotivated religion. It is attached to no evidence, no wisdom, no transcendent insight, no explanation of anything else.
It's just something people want to believe because the idea stuck in their minds and they can't prove it's not true.
Or a religion for people who want a deity that will totally leave them alone — they hope!
---
---
Farewell to Fry's
The Fry's Electronics chain suddenly ceased operations nationwide on February 24. It had been a zombie for ten years. Yet it is part of history.
I visited the original Fry's in Sunnyvale, California, in 1987, making a long trek by city bus from Stanford University, where I was attending a conference. I bought a Motorola CMOS data book and some level-converting chips (74HCT373, I think) for interfacing a diskette drive to an IBM PS/2.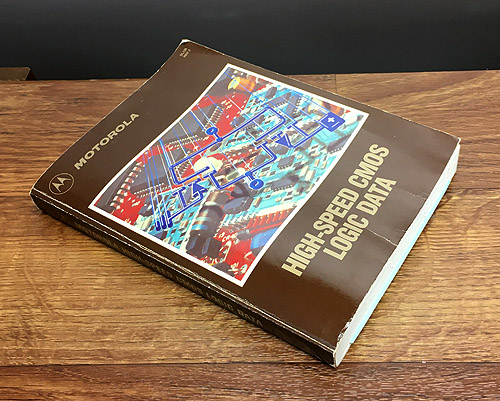 Purchased at the original Sunnyvale Fry's, 1987
The store sold computers, computer parts, and other electronic components and tools along with some snacks and convenience-store-type groceries. The word among computer enthusiasts was that one of the Fry's grocery stores was owned by a microcomputer enthusiast who had decided to start selling computer parts. That's not quite true; although it was the same family, the Fry's grocery stores had already been sold to a different owner. Nonetheless, the original Fry's was a Silicon Valley landmark, and I'm glad I visited it.
Around 1996 I saw Fry's in its full glory, as a chain of large computer and electronics stores catering to, among others, quite advanced electronic engineers. I visited the Fry's in Manhattan Beach (Los Angeles), California, with its Tahitian-themed decor and displays of modern test equipment. One does not often see bamboo mixed with Tektronix.
And I was glad when Fry's opened a store in Duluth (Atlanta), Georgia, in 2004 (see my description here). Initially, it was like the Manhattan Beach Fry's with a lot of consumer electronics and appliances added. A treasure trove of useful things, and because it was a store rather than a web page, I could actually see them before buying.
But the Duluth store was visibly deteriorating within a year. Merchandise wasn't being restocked. I wrote at the time, "Despite its size, that enormous store is no longer a reliable source of anything hard to find." I think that by then, Fry's had switched to selling by consignment rather than buying from wholesalers in the traditional way, and every cash crunch caused the selection to deteriorate. To my surprise it lasted until 2019. Another, up the road, in Milton, Georgia, lasted until the national closing day, although I'm told it was quite empty by the end.
The thing to keep in mind is that electronic design is a human cultural activity, not just an applied physical science, and, as with other cultural activities, a really good store can serve as a cultural focal point not unlike, for example, an art supply store. (And a couple of years ago Athens lost its great local art supply store, too, The Loft, owned by our friend Scott Pope.)
---
---
Drab
I'm not on the UGA campus regularly any more, but on February 24, Melody and I got stuck in traffic on Milledge Avenue while on the way to something else. Because of the sudden warm, sunny weather, a lot of students were outdoors on the lawns of the fraternity and sorority houses and walking down the street.
And we noticed something that took a while to fully appreciate.
They were wearing drab colors. We've seen Milledge Avenue crowds many times, and normally they wear bright colors, especially red, which is one of our school colors.
That day it seemed everybody was wearing white, black, tan, or gray.
February gloom? Pandemic gloom?