Chatbots yet again
We seem to be having a public-opinion disaster, or mass panic, as people read texts written by chatbots and imagine they are the product of a conscious mind. Here are some of the moment's news headlines. (This is not a clickable link, and anyhow, they are changing very fast.)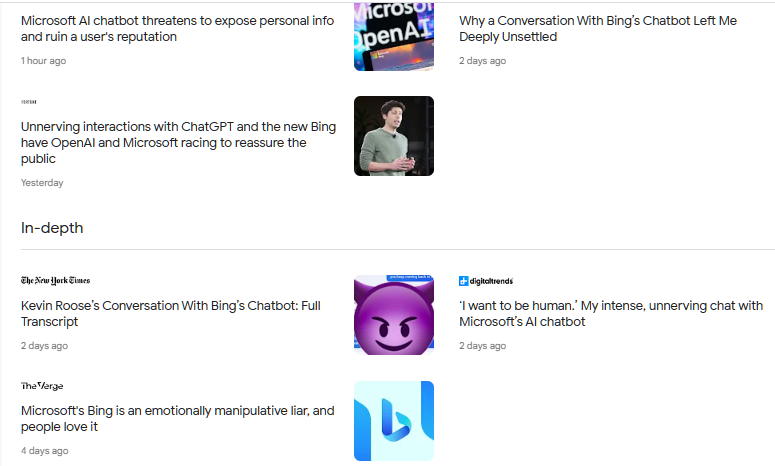 I think even the people who build and deploy chatbots such as ChatGPT have lost perspective on what they are.
You build a text imitator that can imitate, more or less at random, any kind of text it has seen; you feed it all kinds of English-language texts; and then it starts talking like any and all of them. What did you expect?
And the general public is in a panic because they think the chatbots are actually thinking.
Some people can't read words without believing them. So if a machine says it's conscious, they believe it's conscious. That's not how this works.
Anyway, I have grave doubts about the usefulness of a gadget that generates text at random — often truthful, because it often imitates reliable sources — but it can't be relied on to do so, or even to indicate whether it is doing so.
Running in the other direction, such a gadget would be excellent as a grammar and style checker, simply judging whether something is good, natural English, not whether it is true. Has anyone thought of using it that way?
---
---
An hour of the comet's motion compressed into 25 seconds
Here's a better video of Comet C/2022 E3 (ZTF) moving in front of the stars. On the evening of the 13th, I took 50 one-minute exposures of it, with short fixed intervals between them, so that they span about an hour. Here they are as a video:
Same setup as before: Nikon D5500 (H-alpha modified), Askar 200-mm f/4 telephoto lens, Celestron AVX mount, PEC turned on, no guiding corrections, in my driveway in Athens, Georgia.
---
---
Colored concentric rings in Nikon DSLR
Revised March 24, 2023.
We've known for some time that the raw images from a Nikon DSLR are not truly raw; corrections and slightly lossy data compression have been performed on them. Nonetheless, I regularly get good astrophotos with my Nikon D5500.
However, one of the corrections (for off-axis color sensitivity) can look like a faint circular reflection in the image, and I was bitten by that the other night.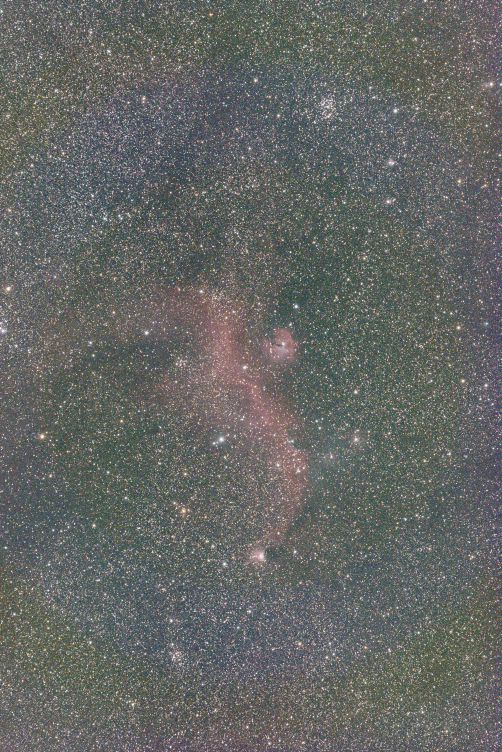 See the blue ring that encircles the middle of the picture? I had to limit the amount of contrast stretching to keep it from showing up. Here, of course, you are looking at an extremely overstretched rendering of the image
Where does it come from? I knew already that Nikon's raw images do a small amount of image compression that can affect the application of flat fields (pictures of a featureless white surface, which we take in order to correct for edge darkening and even dust motes in our optics). But this isn't that. It turns out this is a strange correction that is applied by Nikon because the sensor supposedly has slightly different color rendition away from the center.
Lengthy discussion of these Nikon quirks, conducted largely by "Sharkmelley," has taken place on Cloudy Nights Forum; click here and here.
Note that in my case, this flaw was brought out by extreme contrast stretching of the image. Basically, I took a severely underexposed image of a very low-contrast target. The rings popped out when I increased the contrast by a factor of about 1000. Such things happen in astrophotography — but, realistically, this was not a properly exposed image; I should have set the camera to ISO 640 or even 1600; and I should not have performed such an extreme stretch. If I had exposed more generously, or even set the ISO higher, I would not have had to.
What I've learned is that my old idea of taking minimally exposed pictures at ISO 200 (for maximum dynamic range) is not always the best way to use the Nikon D5500 sensor. It might well be if not for this newly discovered quirk. But in fact we may need to set the ISO higher. And when we do, the difference between this sensor and earlier sensors, such as my trusty Canon 60Da, is much less appreciable.
More of this is expounded at www.dslrbook.com in the Updates section. After further tests, I'm definitely keeping the Nikon — but note that I haven't tried one of the newer, lower-noise Canons (EOS 80D or later), which are probably the best choice.
I'm still disappointed that Nikon doesn't offer us a "truly raw" option in the firmware, for scientific work, so that we could use their excellent sensors to the fullest.
---
---
Happy birthday, Nicholas Copernicus!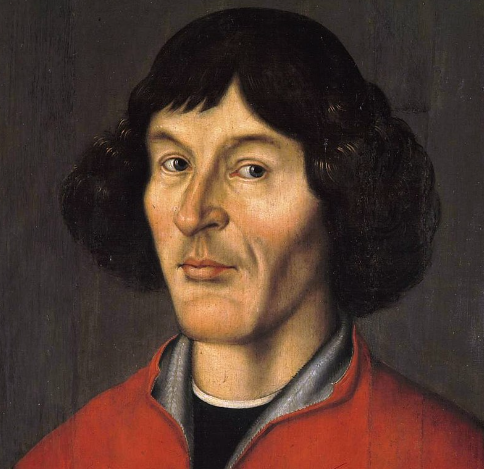 The astronomer who figured out that the planets go around the sun is 550 years old today. For earlier Daily Notebook entries explaining how he made his discovery, click here and here.
I remember his 500th birthday, 50 years ago today. I was then working on a science fair project on Copernicus and was well aware of the date. At Brookwood Plaza in Valdosta I happened to run into a VSC astronomer, undergraduate Jimmy Mitchell, who himself remarked on Copernicus' birthday before I mentioned it. So at least two of us had noticed it.