2023
February
4
Comet C/2022 E3 (ZTF)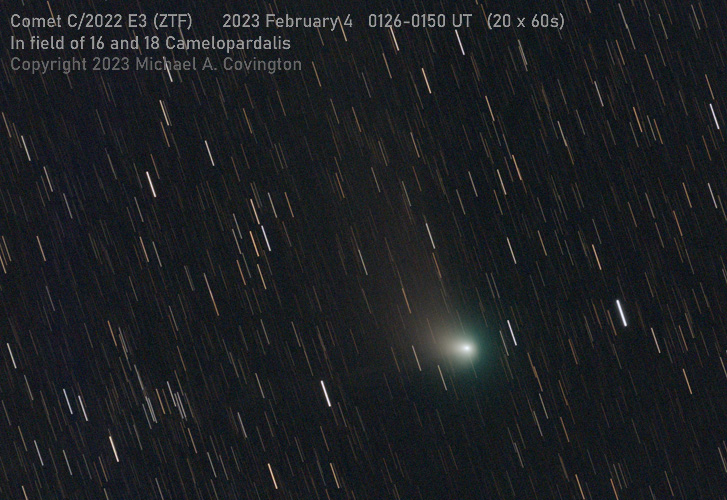 Given our dodgy weather, this may be the best picture of Comet ZTF that I get. (The comet is now receding.) This is a stack of twenty 1-minute exposures, aligned on the comet, which was moving, so the stars are streaks. Nikon D5500 (H-alpha modified, not that it matters) at ISO 200, Askar 200-mm f/4 lens wide open, AVX mount with PEC, no guiding corrections.
Is this a "rare green comet streaking across the sky"? You tell me. I think it's the same color as most comets. But the press has gone wild with it. Their latest conceit is that the comet is "over" particular cities at particular times ("Comet to pass over Houston on February 4" or the like). That's not how any of this works...


This is a private web page, not hosted or sponsored by the University of Georgia.
Copyright 2023 Michael A. Covington.
Caching by search engines is permitted.
To go to the latest entry every day, bookmark
https://www.covingtoninnovations.com/michael/blog/Default.asp
and if you get the previous month, tell your browser to refresh.
Portrait at top of page by Sharon Covington.
This web site has never collected personal information and is not affected by GDPR. Google Ads may use cookies to manage the rotation of ads, but those cookies are not made available to Covington Innovations. No personal information is collected or stored by Covington Innovations, and never has been. This web site is based and served entirely in the United States.
In compliance with U.S. FTC guidelines, I am glad to point out that unless explicitly indicated, I do not receive substantial payments, free merchandise, or other remuneration for reviewing or mentioning products on this web site. Any remuneration valued at more than about $10 will always be mentioned here, and in any case my writing about products and dealers is always truthful.

Reviewed products are usually things I purchased for my own use, or occasionally items lent to me briefly by manufacturers and described as such.

I am no longer an Amazon Associate, and links to Amazon no longer pay me a commission for purchases, even if they still have my code in them.