Retrocomputing with a happier ending
What it needed was an SSD
We have, in this house, four laptops that are more or less mission-critical: the ThinkPad P17 that is my main work machine, but too heavy to carry everywhere; the T490s (14-inch) that I actually take to the library, etc.; and Melody's and Sharon's personal laptops. So it makes sense to keep one older, cast-aside laptop working as a partial spare.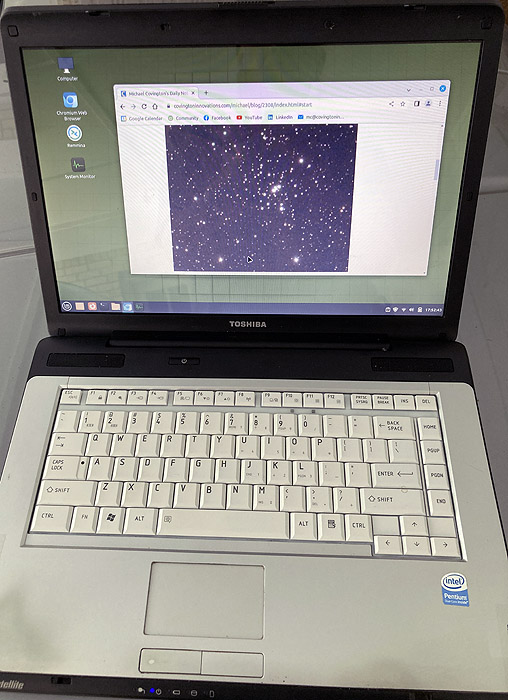 I've done more with Melody's 2008 Toshiba A205-S4823, and it is serving us much better.
What it needed was a solid-state disk, and I got a 480-GB unit for $30 on clearance at Office Depot. It worked magic. We suspect the original hard disk was starting to fail (becoming slow and retrying a lot, but not actually giving errors) when we got Melody a newer laptop quite a few years ago.
Of course it had already received a new battery (necessary due to age, and cheap) and a new charger (which I had on hand). And its keyboard had been replaced with a new white one years ago, shortly before Melody stopped using it. That works out well for using it in dim locations.
With the new disk there is room to dual-boot Windows and Linux, and because of the speed of the SSD, both run well. The sluggishness was almost entirely due to the old hard disk, although when I had Linux on a different disk of similar design, it was still slow; SSD seems to be what operating systems need nowadays.
I also upgraded the RAM. I didn't look at the documentation first, but seeing two 1-GB modules in it, decided to change them to two 2-GB modules. Reasonable? Yes, but not correct. I could get it to run with both 1-GB modules, or one 2-GB, or even one 2-GB and one 1-GB. But not both 2-GB modules.
If I had looked, I would have learned that 2 GB is actually the rated maximum memory for this computer. But I have it running fine with 3 GB (not 4 GB) and will leave it that way if there is no unreliability. Is the joke on me or is the joke on Toshiba?
[Added:] The joke was on me in another way too — see below.
It had Windows Vista on it, and I had on hand a Windows 7 Ultimate upgrade kit that was not in use, so I upgraded it. Then I got a downloadable package from Microsoft to bring it up to Service Pack 1. I've downloaded a number of other updates, but I can't get the full "security rollups" to install; eventually I may figure out why. Microsoft doesn't want me using Windows 7, so their web site is not very helpful. But I installed Avast free antivirus, and it's virus-protected.
This is a 32-bit computer, so it won't run the newest software. (Chrome and Edge both warn that they're not updating, but Chrome will allow me to log in and sync my settings with Chrome on other machines.) It has something 32-bit Windows has and 64-bit Windows doesn't: DOS compatibility. I haven't exercised it, but it will apparently run 16-bit DOS applications in a window.
On the Linux side I have Linux Mint Debian Edition, 32-bit. My main apps are the Chromium browser (which performs very well and stays up to date, but no longer syncs with Chrome, as it used to) and Remmina RDP client.
[Added:] Although sold as a 32-bit computer, this one turns out to be 64-bit capable! On a hunch, I tried booting Linux Mint 64-bit, and it works just fine. So the computer now has a fully current, fully supported Linux version, complete with Chrome and Stellarium. On the Windows side I stuck with Windows 7 32-bit as the best way of preserving Melody's old working environment if she ever wants to use it again.
By the way, the change to a 64-bit OS does not allow me to install two 2-GB memory modules. If I do, the BIOS boot process hangs before the computer even gets to look at the OS.
It's handy to have this computer here where I can easily reach for it to check web pages and e-mail and to RDP into other computers. I used it as an RDP client the other night to look in on the P17, which was outdoors controlling the telescope and camera.
Best of all, Melody can boot into Windows 7 and still have all her software, work, and music from more than a decade ago (although everything important has of course been moved elsewhere and backed up, long ago).
And of course, this very day, as I was getting all this working, the 14-inch T490s came back from repair. To fix a "fan error" it had gotten a new fan and a new mainboard! I'm glad I didn't try to do that myself; if it really needed all that, it would have cost $1000. But they may have replaced more than strictly necessary, for reliability and because they have a lot of parts on hand for a discontinued model.
Tonight, if the weather is clear, I'll have another "does the equipment all work?" session, this time returning the newly repaired T490s to its role as telescope controller.
More about Windows-Linux interoperability:
Out of the box, Linux Mint 64-bit Cinnamon has somewhat less Windows network interoperability than Linux Mint 32-bit Debian Edition (LMDE) did. It can easily get to my Windows network (with addresses such as smb://servername/sharename) but had some trouble resolving names of Windows machines, apparently relying on some help from my router. That made it hard to use Remmina to RDP into the Windows computers.
To correct that, I installed three packages:

sudo apt install samba
sudo apt install libnss-winbind
sudo apt install winbind

and edited /etc/nsswitch.conf so that in the hosts line, instead of "dns" it said "dns wins".
To resolve a time zone conflict I set:
timedatectl set-local-rtc 1
Now all seems OK.