2023
October
1
How to make a safe eclipse projector
Most of the U.S. has a partial eclipse of the sun coming up on Saturday, October 14. You can view it safely with eclipse glasses if you have them — or you can build this gadget. Read on...
I call this an eclipse projector to emphasize that you don't look through it. Teachers will find it especially safe because the children using it are facing away from the sun, obviously not endangering their eyes by peering at it.
You'll need two paper plates, or pieces of paper or cardboard about the same size.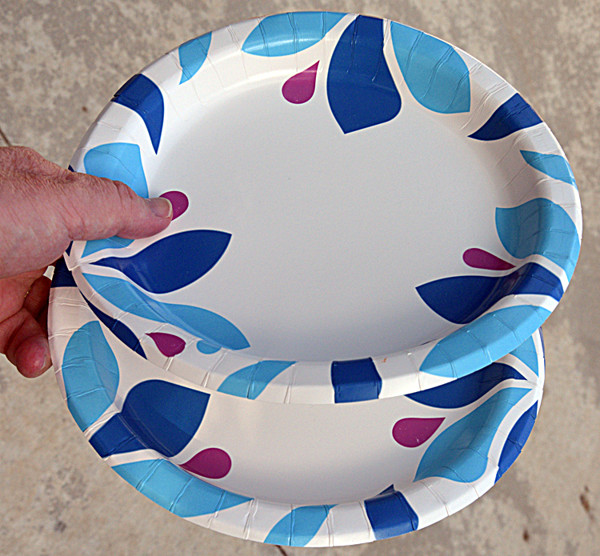 In one of the paper plates, make one or more holes, about 1/16 to 1/8 inch in diameter. One hole is enough. I made two to show that the holes don't need to be perfectly round; two holes of different shapes give the same image. You may want to try several holes of different sizes.
Now hold them so that the shadow of the first one falls on the second one, and you can see a spot of sunlight coming through the hole. Here there are two holes and two spots. (If you don't want to have to hold the plates this far apart, start with smaller holes, like 1/16 inch.)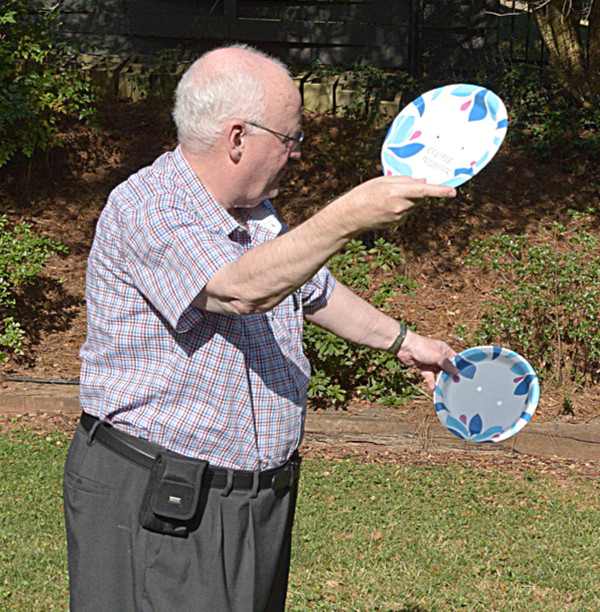 Photo by Melody Covington
Look closely at the spot or spots. The spots are round because the sun is round. During an eclipse they will be crescent-shaped, and you can watch the progress of the eclipse.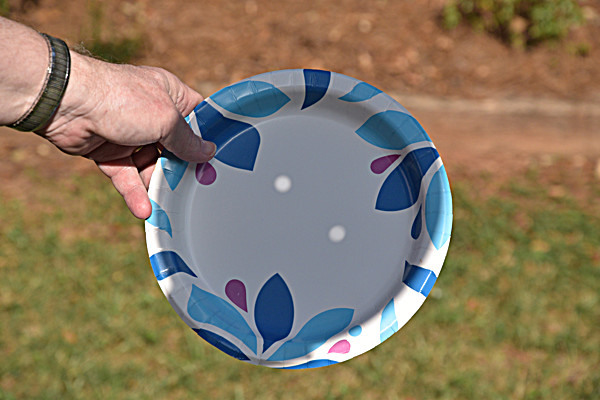 Photo by Melody Covington
And that's all there is to it!

This is a private web page, not hosted or sponsored by the University of Georgia.
Copyright 2023 Michael A. Covington.
Caching by search engines is permitted.
To go to the latest entry every day, bookmark
https://www.covingtoninnovations.com/michael/blog/Default.asp
and if you get the previous month, tell your browser to refresh.
Portrait at top of page by Sharon Covington.
This web site has never collected personal information and is not affected by GDPR. Google Ads may use cookies to manage the rotation of ads, but those cookies are not made available to Covington Innovations. No personal information is collected or stored by Covington Innovations, and never has been. This web site is based and served entirely in the United States.
In compliance with U.S. FTC guidelines, I am glad to point out that unless explicitly indicated, I do not receive substantial payments, free merchandise, or other remuneration for reviewing or mentioning products on this web site. Any remuneration valued at more than about $10 will always be mentioned here, and in any case my writing about products and dealers is always truthful.

Reviewed products are usually things I purchased for my own use, or occasionally items lent to me briefly by manufacturers and described as such.

I am no longer an Amazon Associate, and links to Amazon no longer pay me a commission for purchases, even if they still have my code in them.