Which of these is more multicultural?
Exotic characters in astronomical names
The latest Journal of the British Astronomical Association contains a letter from me, proposing that the IAU's official names for astronomical objects should always be written in the 26-letter alphabet with no diacritical marks or other special characters, though a more decorated version of the name can be offered as an alternative.
I wrote it in response to a letter from Jean Meeus that cited asteroid names containing African click marks and Polynesian long vowel marks.
My concern is that astronomers are not linguists, will not know for certain whether special characters have been transcribed correctly or rendered into different fonts, and do not have a ready source of information about exotic languages.
What's more, they have to make alphabetical lists, and how do you alphabetize a mark improvised by a field linguist 50 years ago? Even if Unicode knows, people don't.
Accordingly, for the sake of international communication, we need to confine ourselves to the alphabet that is on almost every keyboard all over the world.
My purpose is to encourage multicultural naming. There's no reason astronomical names all have to come from Greek and Roman mythology. But to use names from other sources, we have to package them for usability.
In an online forum I got a counterargument (I don't know how serious) that by insisting on the standard alphabet I was somehow supporting the evils of colonialism.
It is hard to know what such a person is wishing for (nor am I sure it was a serious argument; he may just have wanted to see me knock it down, which I did by pointing out that his whole argument was written in a colonialist language, namely English).
My goal is not to make English supreme, but rather to use the most widely available set of alphabetic characters in the entire world, the ones that are on any keyboard that uses any form of the Latin alphabet, and are supported by even the oldest software.
And if that's not multicultural, I don't know what is.
---
---
Using a UPS with medical equipment, lift chair, or CPAP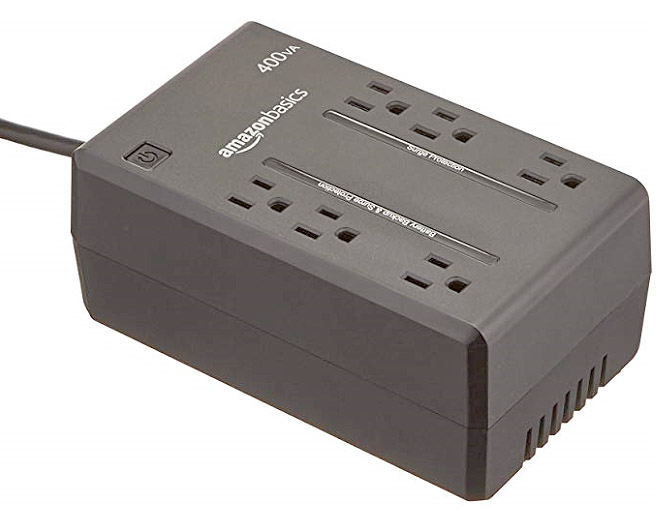 What if you want power-failure protection for something that is not a computer, such as a small medical device; a lift chair or power recliner that would be hard to get out of without using its motor; or a CPAP machine?
You can use a computer UPS, but there are a couple of things to pay attention to.
First, some older and larger UPSes shut themselves off if no power is being drawn from them at the time of the power failure. (They think the computer has shut down.) This is a problem if you're in a lift chair, which, of course draws no power when you're not moving it. Then, power fails, and you push the button on the chair, expecting the UPS to power it, and it doesn't. Bad news.
I observed that behavior in APC Back-UPS 500 units made 20 years ago, but not with the modern Amazon Basics 400 VA UPS that we're now using. If you have the problem, solutions include keeping a night light connected to the UPS to provide a continuous load, or possibly hot-wiring a switch or button that will wake up the UPS.
Second, you probably don't want the UPS to start beeping when power fails, especially if it's on a machine that you use while sleeping, such as a CPAP. Usually, the beeper can be turned off. For the Amazon unit I just described, the procedure is:
Turn on the UPS by holding down the power button until you hear a long and a short beep.
Then turn off the beeper by giving the button two brief presses (some experimentation will be needed to find out how rapidly to do this). When successful, you will hear two short beeps.
I wrote these brief instructions on a label and attached it to the UPS.
A more heavy-handed tactic is to simply unsolder and remove the beeper. I've done that several times in the past.
Last, know what to expect. The purpose of a UPS is not to get you through hours without electricity. It's to get you through short power failures uninterrupted and keep longer ones from turning into excessively difficult situations.
When there is a really long power failure, any UPS batteries that are getting old are likely to fail. When power comes back, give all the UPSes 48 hours to charge up, then test them by unplugging them from the wall. You'll probably find your batteries that are more than 3 years old aren't doing the job.
In fact, it's a good idea to replace UPS batteries every 3 years. That implies writing the date on the UPS (on a label or piece of tape) when it's new and whenever batteries are replaced.
One last thought. Some of the outlets on the UPS are only surge protected, not power failure protected. Pay attention to the labeling, and if you're like me, put tape over the outlets that aren't UPSed, to prevent unpleasant surprises.
---
---
Impenetrable alarm clock — bad user interface award
Today's Bad User Interface Award goes to my Sony ICF-C707 alarm clock.
Only with microprocessors is it possible to create an alarm clock that a highly educated person cannot set or use without referring to instructions. A hint: The first thing I discovered was that the TIME SET buttons (two pairs) do not set the time. It went downhill from there.
Bad software designers around 1980 relished every project as an opportunity to create a new and challenging puzzle for the user. But I thought that kind had all lost their jobs by now. Apparently not quite all.
While installing a UPS, I had to set up this clock from scratch. For years previously, I had done little but turn the alarm on and off and change the alarm time. The clock itself is very accurate.
Well, the procedure was impenetrable until I downloaded the instructions. Here's part of it; could you have guessed any of this?
A "trap for young players" (as Dave Jones would say) is that many of the buttons have no effect unless held down for 2 seconds. That made it extremely hard to learn anything by just trying buttons.
This is not a self-setting clock. It doesn't pick up radio signals. The only reason it wants to know the time zone is because it had been set at the factory but did not know what part of the world it had arrived in. From there, you get to a procedure whereby, with a long press of a hidden button on the back, TIME SET will indeed set the time. (Starting with the year, so it can calculate Daylight Saving Time dates.)
Now... I like the functionality of this clock... its great accuracy and automatic Daylight Saving Time save me a lot of work. But why can't its controls be understandable to people who haven't read the manual? Sony needs to think about how they are labeled and what is shown on the screen. Why not display brief guidance on the screen itself? Or even a few sentences saying what these buttons actually do, embossed in the bottom of the plastic case?
I know there are those who will say, "Well, you should always read the instructions." No. This isn't an exotic new machine, it's an alarm clock. Just because they can make it hard to use, doesn't mean they should.