<! Text is not in a table! >
---
<!!!!!!!!!!!!!!!!!!>
---
---
Information about the August 21, 2017, Solar Eclipse
Michael A. Covington, Ph.D.
Senior Research Scientist Emeritus
The University of Georgia
---
On August 21, 2017, all of North America saw an eclipse of the sun.
Use these links to learn more about the eclipse.
---
ESPAÑOL: Haga clic aquí
For the time and appearance of the eclipse at your location, click here.
---
Picture of the eclipse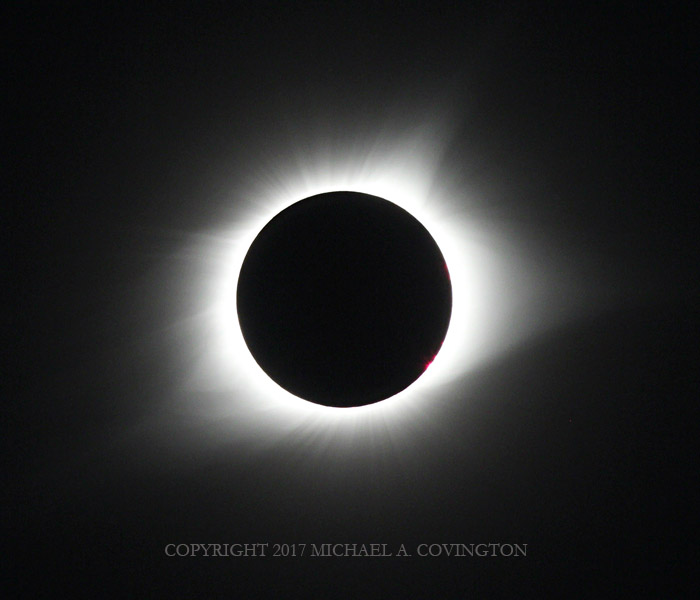 Please respect the copyright on this image. Unlike the educational materials below, this picture is not freely reproducible.
This is a very preliminary rendering of a single exposure taken at Hiawassee, Georgia, with a Canon 60Da camera, a Canon 300/4 telephoto lens at f/10, and an exposure of 1/80 second at ISO 800.
See also the eclipse picture gallery. When prints are available for sale, it will be announced there.
---
Other post-eclipse notes
Your eclipse glasses will not go bad from aging if you want to keep them for the next eclipse, and/or to look for sunspots.
Contrary to what some newscasts are saying, NASA says this: "Some glasses/viewers are printed with warnings stating that you shouldn't look through them for more than 3 minutes at a time and that you should discard them if they are more than 3 years old. Such warnings are outdated and do not apply to eclipse viewers compliant with the ISO 12312-2 standard adopted in 2015."
That is what I thought all along. Telescopic filters made of aluminized glass or plastic have been in use for 30 years and we have never been told not to use older ones. Further, if a filter cuts UV and IR properly, there should be no time limit on how long you use it.
My guess? Both of those warnings are boilerplate language picked up from some earlier type of filter, perhaps a dye filter, that wasn't quite safe by today's standards.
---
Freely shareable educational pictures prepared before the eclipse
Click each to view full size...
---
Freely shareable presentations, posters, and handouts prepared before the eclipse
Customized for Georgia and the Carolinas, but almost everything here is relevant throughout North America. Feel free to adapt these to your location.
The August 2017 Solar Eclipse in Georgia and the Carolinas
(Full presentation)
by Michael Covington
The August 2017 Solar Eclipse in Georgia and the Carolinas
(Short presentation)
by Michael Covington
The August 2017 Solar Eclipse in Georgia and the Carolinas
(One-page summary, to print on 14-inch paper and hand out,
or print larger and use as a poster)
by Michael Covington
The August 2017 Solar Eclipse in Kentucky and Tennessee
(One-page summary, to print on 14-inch paper and hand out,
or print larger and use as a poster)
by Michael Covington
---
En español
EN ESPAÑOL:
El Eclipse del Sol de 2017 en Georgia y las Carolinas
(Presentación corta)
por Michael Covington
EN ESPAÑOL:
El Eclipse del Sol de 2017 en Georgia y las Carolinas
(Somario en una página para imprimir y distribuir,
o para imprimir más grande como póster)
por Michael Covington
---
Other eclipse web sites
How to Photograph a Solar Eclipse
by Fred Espenak, with exposure table
Video (about 5 minutes):
Solar Eclipse Across America
American Astronomical Society
Video (about 5 minutes):
How to Safely Watch a Solar Eclipse
American Astronomical Society
NASA Eclipse Web Site
(all eclipses, more technical)
---
The ads that you see here are not controlled or endorsed by Covington Innovations. They come from Google based on your browsing history.
If offensive ads appear, click on the triangle at the upper right and choose "AdChoices," or turn off cookies in your browser.

---
Top