Windows 10 security (updated)
[Major update, August 4.]
Under the hood, Windows 10 impresses me as reliable and secure, but flawed by two prominent blunders which need correcting immediately. The blunders are ethical and legal, not technical. On the technical side, Windows 10 is solid and even has security improvements compared to earlier versions. But two very bad decisions seem to have been made by non-technical management (or maybe by ethically naive technicians) and somehow got past Microsoft's lawyers.
Bad idea number 1 is Wi-Fi Sense, which is supposed to make it easy for you to share access to a Wi-Fi network with your friends. It does — but "friends" might include Facebook friends who are total strangers and who want to use your network for mischief.
Bad idea number 2 is peer-to-peer sharing of Windows updates. This is actually a great idea within a local-area network. It keeps every machine from having to download from Microsoft separately. But Windows also, by default, uses your bandwidth to upload updates to strangers! That is unacceptable for many reasons.
Both of these are easy to turn off (see the specific recommendations below). I expect Microsoft to come to its senses and abolish both of them soon.
---
So what were they thinking?
I am wondering why Microsoft made these bad decisions. If I had been their lawyer, I would have told them that:
Wi-Fi passwords aren't made to be shared. If a network is free for use by everyone, it doesn't have a password in the first place. Wi-Fi Sense probably violates user agreements every time it is used, and it may violate laws against unauthorized password disclosure (such as this one, to take just one example).
When done without users' clear consent, peer-to-peer sharing of updates could constitute theft of services. It can degrade their network performance, impose costs on them (some of us pay for bandwidth!), set off alarms in network routers and the like, and violate ISP user agreements.
It won't do to hide the consent deep in the fine print. Users expect the Windows 10 terms of service to be very similar to earlier versions. Courts won't enforce strange, adverse provisions that are hidden deep in a contract where people have been led not to expect them.
I do not have technical details, and it's possible neither of these bad decisions is quite as bad as it looks. But I have to call things as I see them.
All I can guess is that the people at Microsoft were caught up in trendiness, thinking entirely too much like a casual smartphone user rather than someone who does serious computing. Someone forgot that Wi-Fi isn't a public resource; those passwords are there for a reason! And someone forgot that bandwidth isn't free and unlimited.
---
Am I giving up on Microsoft?
No, I'm not giving up on Microsoft. Nor am I going to spread the vague idea that Microsoft is an evil conspiracy. But I am going to hold them accountable for specific blunders.
I do think they have shot themselves in both feet and need to regain the trust of the public.
I don't think we need to be afraid of Microsoft actually doing great harm to the computer-using public. Far too many eyes are on them! Their main victim is themselves.
On the technical side, they're still as good as ever. I still need a Windows platform, and I still think Windows 10 is the best version of Windows. After all, the Windows 10 development effort was directed entirely at correcting the user interface problems of Windows 8, and improving not at adding new functionality. It should be reliable.
And due to its use of object-oriented technology, Windows is more technically advanced than MacOS or Linux, both of which are based on UNIX (1978).
What amuses me about people who bash Microsoft for vague reasons is that they often praise Apple for doing very similar things. If Wi-Fi Sense had turned up in the iOS world, there would be a chorus of people praising it and demanding that Wi-Fi user agreements accommodate it. Apple's customers are like that. Microsoft's customers are a more skeptical crowd.
And maybe that's how it should be. A sign of a healthy democracy is that people mildly dislike their government. Maybe it's also a good sign with dominant software companies, or dominant vendors of any kind.
---
Pre-recommendations
The first principle of computer security is stop, think, and use common sense. Think about what you do and do not want computers and the Internet to do for you.
The reason for Microsoft Accounts and OneDrive is to synchronize your data between different computers. But Microsoft can't transmit your data without having your data. So if you want more privacy, don't hand your data over to a third party.
Similarly, some Windows 10 software uses the microphone, the camera, and/or the location data that the operating system keeps track of. In the old days, PC software would just use them, without consulting you. Now, at least some of the time, you have to grant permission. That's why you get all those warnings.
Then there's advertising. Microsoft wants to send you ads and other local information (weather, for instance) based on information about your location and preferences. Some people welcome this, and others are uneasy about it.
What I urge you to do is think about whether you need these things done, and if not, turn them off (and live with the consequences of turning them off).
Remember that web browsing is not and never has been a private activity. Web servers have to know where you are in order to send the web pages to you. That is not new with Windows 10.
Are Windows computers particularly vulnerable to viruses and malware? No; since Vista, Windows has been rather hard to tamper with. But Windows computers are numerous, so that's why the virus authors target them, despite the heavy defenses. Almost all viruses now require some kind of consent from the victim, but it's all too easy to get consent because some people think they are supposed to answer "yes" to anything that pops up on the screen.
Stop and think before you say "yes."
---
Specific recommendations
Here are my specific recommendations for Windows 10. Steps 4, 5, and 6 are the most important ones.
(1) If practical, set up your user account without linking it to a Microsoft Account.
During the installation procedure, when you're invited to create a Microsoft Account, my recollection is that you have to say you want to create one, then bail out of the process.
This automatically disables Wi-Fi Sense and improves security in other ways.
If your user account is already linked to Microsoft Account and you want to unlink it, here's how: Start button, your name, Change account settings, Your account, Sign in with a local account instead. More explanation here.
I have a Microsoft Account; I just don't want to sign into it all the time when I'm using one of my own computers.
(2) Do not store sensitive information in OneDrive, Google Drive, DropBox, or the like.
You don't know who's going to get hold of it. While I do not know of any breaches, the fact is, you're giving the information to someone else to hold for you. No doubt they will safeguard it in good faith, but they could get hacked or burglarized...
(3) If you are not using Wi-Fi, turn Wi-Fi off.
This is always a good idea. On most laptops and tablets, "airplane mode" neatly turns Wi-Fi off (and also cellular telephony). You also have an easy way to turn off Wi-Fi by itself.
My desktop also has Wi-Fi; yours may, also. I turned it off by using Start button, Settings, Network & Internet, Ethernet, Change adapter options, right-click on the Wi-Fi adapter, Disable.
(4) (IMPORTANT) Make sure Wi-Fi Sense is turned off.
If you have no Wi-Fi, this will not apply. But if you have Wi-Fi, this is important.
Go to Start button, Settings, Network & Internet, Wi-Fi, Manage Wi-Fi settings, and make sure the two switches are off, like this: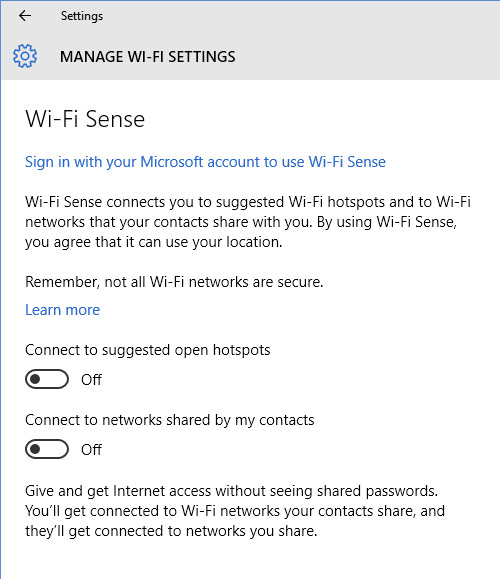 (5) (IMPORTANT) Use Windows Defender and Windows Firewall.
Use them in the normal way, and let them send information to Microsoft. That's how antivirus software finds out about viruses. Get to this from Start button, Settings, Update & Security, Windows Defender.
In my opinion, Windows Defender is sufficient; you don't need other antivirus software unless you have unusually hazardous habits (i.e., you enjoy downloading things just to see what they'll do).
(6) (IMPORTANT) Get your updates only from Microsoft and do not share them, except in a LAN.
This is hidden deeply under Start button, Settings, Update & Security, Windows Update, Advanced options, Choose how updates are delivered.
Make sure you uncheck the button that says "...and PCs on the Internet." It's checked by default and will have you sharing updates with total strangers, using bandwidth and risking getting a counterfeit update.
Since I have a local-area network, I use these settings: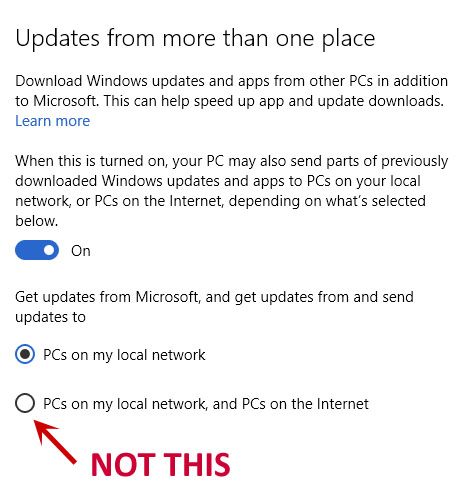 If you don't have a LAN, just turn off the blue switch that is labeled "On."
(7) Keep Windows up to date.
I know automatic updates are controversial, but I accept them. I want Microsoft to fix security problems as soon as they are discovered. This is under Start button, Settings, Update & Security, Windows Updates, Advanced Options.
Note that you have the option to defer upgrades. That will delay (by months) the installation of updates that only add features without improving security.
And that brings to mind an important fact about how Windows 10 is designed: There are not going to be numbered versions (10.1, 10.2, etc.). Instead, features will be delivered incrementally through Windows Update. (Who wants to bet that Wi-Fi Sense will disappear soon?)
(8) Go through all the privacy settings and disable everything that does not need to be enabled.
Click Start button, Settings, Privacy. Here are screen shots of some of my own privacy settings: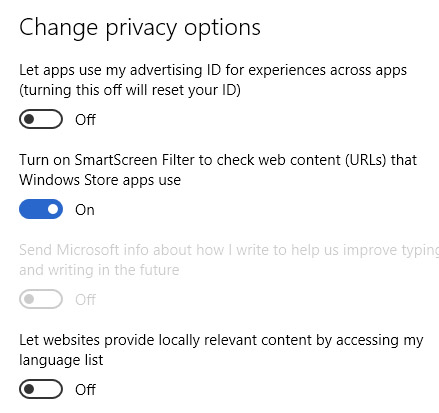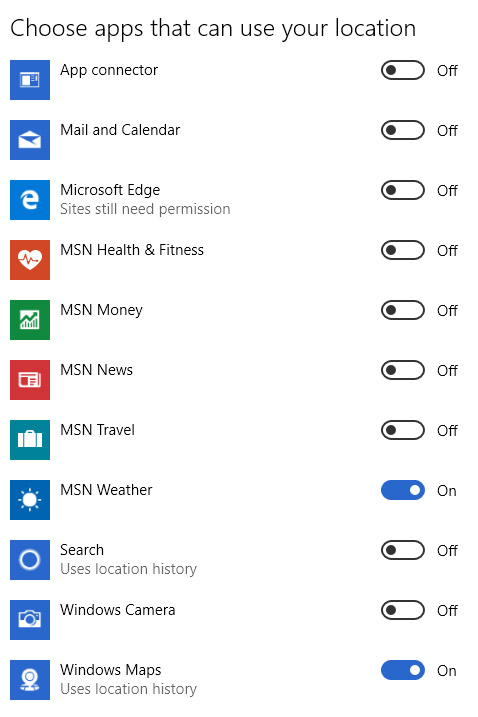 Because I handle highly confidential data, I've opted not to let Microsoft collect the usual information about my usage.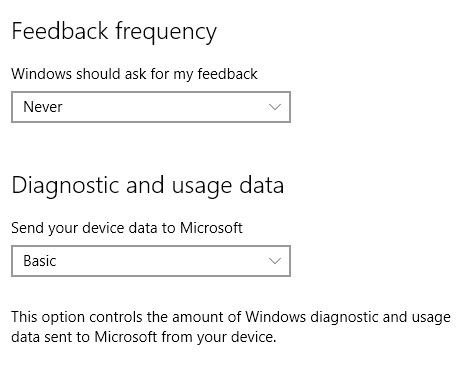 And for reasons of performance, I've turned off all the background apps, most of which are apps I never use in the first place.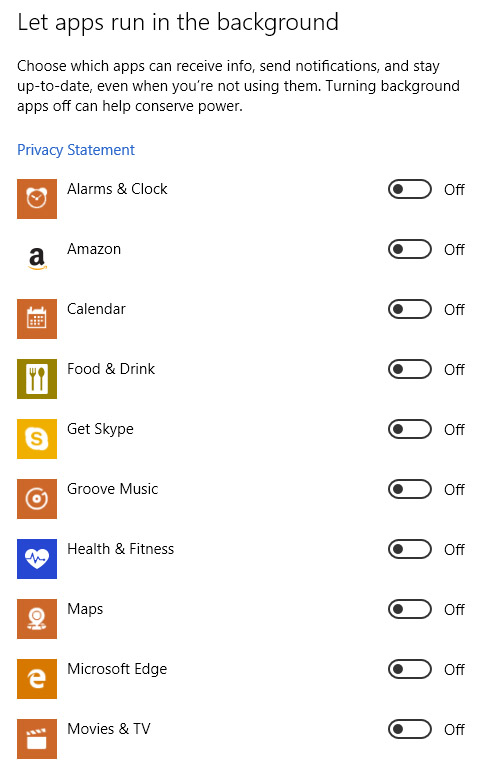 This is not the last word on Windows security, but it should get you started. Keep your ears open for well-informed advice, but steer clear of paranoia.