Does Diet Coke rot the brain?
Why you should question sensational medical news
[Updated.]
How should we react when the news media report that some food or medicine, previously thought safe, has suddenly been found to be harmful?
An example is the recent study by Pase and others linking artificially sweetened soft drinks (but not sugary drinks) to a sharply increased risk of stroke and dementia. Should we panic?
Well, I am not medically trained, but I do know something about experimental methods and statistics and have been involved in medical research. So let me step through how I react to a news report like that.
(1) Make sure it's not fake news. If the report had come from a glamorous supermodel, or a web site full of "things they don't want you to know," shared by a friend's nephew's uncle's girlfriend's daughter on Facebook, I'd just disregard it. The world is full of medical fake news.
In this case, the research was reported in major news media, they tell us where the research was done and where it was published, and I was able to find it in PubMed immediately.
PubMed is something all educated people should know about. It's a free online index of medical research. It gives you summaries of the articles (or in some cases just bibliography entries), but it often has a full text link to the whole article. It also gives you links to related articles.
Even if you're not qualified to understand the research, you can use PubMed to confirm that it was published in a reputable journal, and to see the results in the researchers' own words, not distorted by journalism or gossip.
(2) Look for confirmation and expert commentary. Before we delve into anything technical, we ask the big question, "Are other researchers getting the same result?" In this case, no; nobody had heard of it before; that's why it's a sensational story.
In fact, along with the published research, in the same issue of Stroke, there's another article commenting on it and saying, in effect, "We don't believe it." Well, not quite that strongly. But they see the results as largely unexplained and needing further study.
Of course, it's often a good idea to ask your own doctor. (My doctors know I do a lot of this!) A practicing physician will have a good feel for whether a new discovery is going to hold up or not.
Now let's get more technical...
(3) Remember that "significant" doesn't mean "proven." There is random variation in all experiments — no two groups of people are exactly alike — and sometimes the random variation is big enough to "throw" the results of a study. Oversimplifying just a bit, the usual statistical techniques leave about a 5% chance of this happening. So there's about a 5% chance that any statistically significant result still isn't real. (Often, the researchers publish p values that enable you to tell whether the risk is near 5% or appreciably less. And we can fight the frequentist-Bayesian battle somewhere else; I know I'm making a long story very short.)
(4) Think about whether the experiment was biased. This particular study was controlled for obesity and a lot of other things — otherwise the result would have been explained away by the simple fact that only overweight people drink diet sodas.
A colleague reminds me that this controlling probably wasn't perfect. The experimenters matched the two groups for everything they could — but some important difference may still have been overlooked, or the information might not have been available.
Another source of possible bias, common in medical studies, is simply that one group gets more and better medical care than the other. That's probably why we get scattered reports that one thing or another is slightly associated with Alzheimer's disease, and then nobody confirms it. Some people are more likely to be diagnosed than others, simply because they get more medical care, and those are also more likely to receive unrelated medical treatments for other things.
(5) Look for a dose-response effect. If X causes Y, then more X should cause more Y. If it doesn't, you're probably looking at random variation.
And that's where, to my eyes, this study breaks down. Looking at the full text (this link may not work for everyone), in Table 2, the dose-response effect is either weak or not there at all. The researchers compared people who drank diet sodas occasionally (0 to 6 per week — presumably 0 doesn't quite mean 0) with those who drank more than 1 per day. The risk of stroke was only a few percent higher for the second group, and in one case it seemed to be lower. With dementia (Table 3), the dose-response relation was more convincing, but the statistical significance went away when the patients were matched for a number of common medical conditions (that might lead a person to go on a diet).
I'm not saying this is a bad study; don't get angry at the scientists. They got interesting results, and they reported them honestly. That's how discoveries are made. It's just that these results are not the last word. The news media left out the fine detail and made the news seem more alarming than it really is.
So what am I going to do? Mostly, keep my eyes open for other studies that might confirm or explain these results. If two or three more studies back it up, I'll stop drinking diet soft drinks.
Just a couple more thoughts. Although research results are unclear, we already have grounds to suspect that diet soft drinks might be fattening even though calorie-free. How do they do that? Apparently, the sweet taste signals the body to store calories and stimulates the appetite. This is not solidly confirmed, but it is plausible, and it could introduce confusion into a study like this.
Also, during the time period of the study, as far as I can tell, virtually all diet soft drinks were sweetened with aspartame, about which there is slight but lingering uncertainty. (It gives some people migraines, which is, I suppose, a bad sign.) Today's diet soft drinks often use sucralose (especially Diet Pepsi, the one I drink the most). So we're not looking at the same situation today.
It is important not to go on half-believing an unconfirmed result. Either it will be confirmed, or it will turn out to be completely erroneous. "Half-true" is not an option.

Some people — especially those with a taste for gossip — go around with a mind full of half-beliefs of everything they've ever heard. They can't completely reject anything even when it's completely discredited. It must be a confusing way to live.
Bottom line? Wait for more results. But of course if you don't like diet soft drinks, you don't have to drink them.
---
---
"Idiot lights"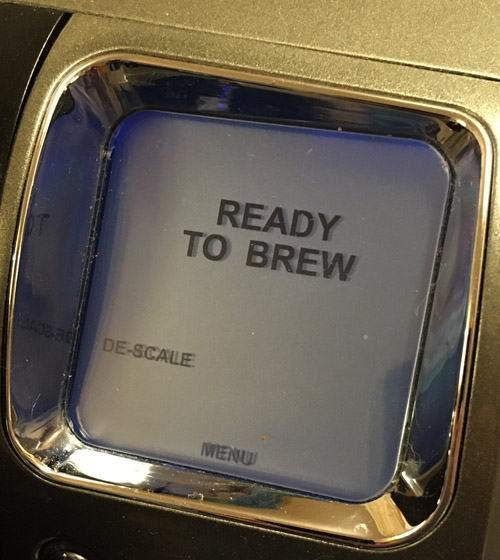 Fifty years ago, people were lamenting how the gauges on car dashboards were being replaced by "idiot lights" that would light up without really telling you what was wrong. (These were lights like "Hot" and "Oil." The universal, incomprehensible "Check Engine" light came later.)
Today we have a new plague of the same thing, thanks to microprocessors in appliances.
Our Keurig coffee maker demanded de-scaling (cleaning) the other day, so I bought Keurig's "only recommended" cleaning solution (a $16 bottle of citric acid solution that must have cost 10 cents to make) and ran the cleaning process. The "DE-SCALE" message keeps popping back up. I've done some further cleaning by hand, and today I'm running vinegar through it.
If it doesn't stop making these demands, I'll have to ignore them.
Fundamentally, the Keurig is violating a principle of communication called Grice's Maxim of Quantity: "give the right amount of information." The trouble with "idiot lights" is that they don't tell you enough to enable you to fix the problem. This one is as idiotic as any.
---
---
Farewell, old tree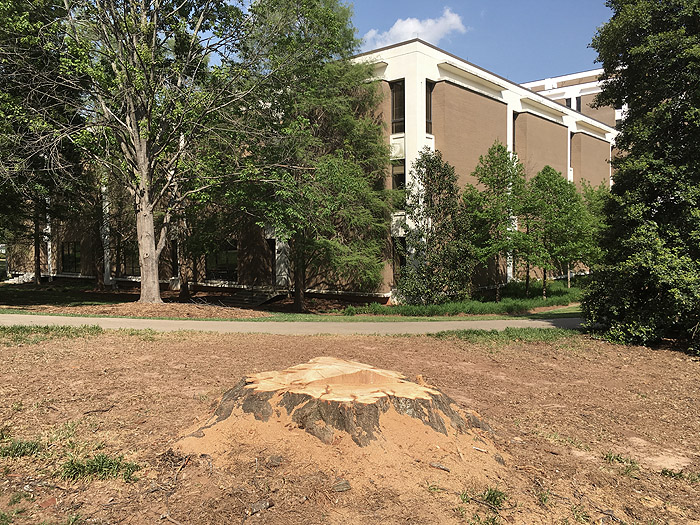 I'm ashamed to say I never paid much attention to the enormous tree just southwest of the Boyd Graduate Studies Research Center — the building in which I worked for nearly 30 years — until I passed by last week and saw that it had been cut down. Presumably, the storms damaged it.
I think it was a white oak. What I'm sure of is that the stump was four feet in diameter.
This tree must have been there before Boyd was built in 1968. Before the building was built, the site was an amphitheater (which explains why the building seems to be sitting in a hole) and this tree must have adorned one of its four corners. Tempora mutantur...