Soldering rechargeable batteries without damaging them...?
We all know that NiMH cells, and other rechargeable cells, shouldn't be soldered unless they have solder tabs on them. Soldering directly to the cell would overheat it and shorten its life.
Those tabs are put on by spot-welding, and your local Batteries Plus can install them for you.
But sometimes Batteries Plus is closed, and you need to fix something. From a video by "The Combat Engineer" I've learned a way to solder rechargeable cells that exposes them to remarkably little heat. I've tried it on some cells from my recycling bin, and it definitely makes good connections, and the cells actually don't get very hot.
The key idea is that you are going to tin a spot, leaving a small blob of solder, and then attach a wire that is generously pre-coated with the same solder.
Here are instructions for doing it safely.
(1) Use lead-based solder (Sn60 or Sn63), the best rosin-based gel or paste flux you can get hold of, and a hot iron. I used a 40-watt iron set to 400 C. Paradoxically, you'll heat the whole cell less if the iron is hot and can heat a small spot more quickly. The iron needs to have a chisel (screwdriver) tip, not conical.
(2) Sand or clean the surface of the cell, put a glob of gel flux on it, and put your soldering iron in contact with the metal surface in the middle of the flux glob for one second. At that point the flux will be melted.
(3) Then feed in solder for at most two seconds and withdraw the iron.
You should be left with a solder spot like this: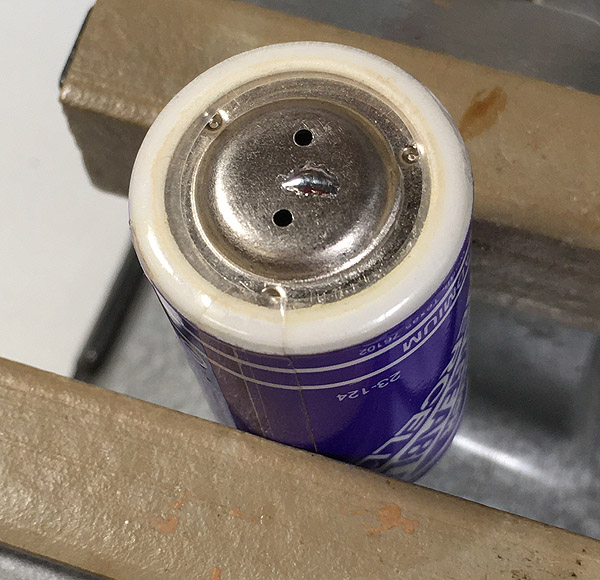 (4) Check that the cell is not hot (you should be able to touch it almost immediately after soldering) and that the solder spot is firmly attached (you can't dislodge it with a screwdriver). If not, let everything cool down and try again.
(5) Separately, pre-tin the end of the wire with a large amount of the same solder.
(6) Finally, put the wire down on the solder spot and apply the iron, which can also have a large drop of the same solder on it. Since they have the same solder on them, the wire and the spot will join as soon as the solder melts. This will only take one second.
Verify that you got a good joint — it doesn't come loose when you pull it — and you're done.
[Update:] For a similar technique endorsed by a very experienced worker, see this video around the 24-minute mark.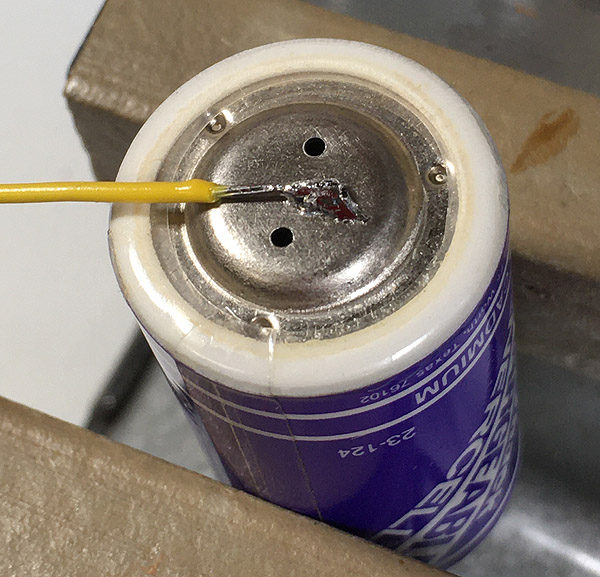 ---
---
How to solder two wires together
When work with tools is involved, I always like to see how other people do things. I've known how to solder for over 50 years, and I think I'm good at it, but some people have done a thousand times as much as I have.
What's more, I learned with the tools and materials of the 1970s, and although I've moved on to newer tools and materials, I wonder if a person starting out today would form the same intuitions as I did, or different ones. So I've been watching some soldering videos. The following is inspired by this video by automotive electrician "Chris Fix" among others.
The task is to solder two big, stranded wires together. In the 1970s we'd just twist them together, apply the soldering gun and lots of solder, and go. And the result would be more or less OK, but not all we could wish for — the solder would go on unevenly.
Today one thing that has changed is much more awareness of the need for flux. When you're working on anything other than small connectors or printed circuit boards, the flux core of the solder isn't really enough.
So here's how I advocate doing it today.
First, splay the strands apart, if you conveniently can, before twisting them together. That's the best way to twist them.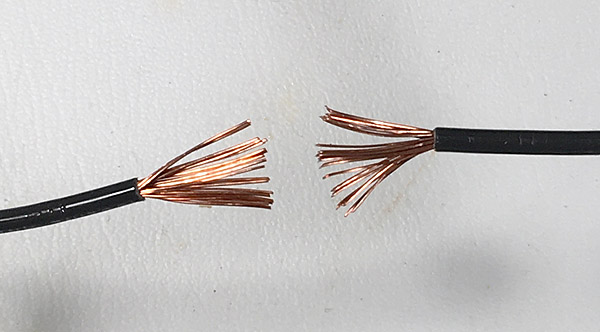 Second, apply lots of flux. Chris Fix used rosin paste flux; I used liquid. The idea is to get it all over the metal to which the solder will adhere, including the strands deep inside the joint.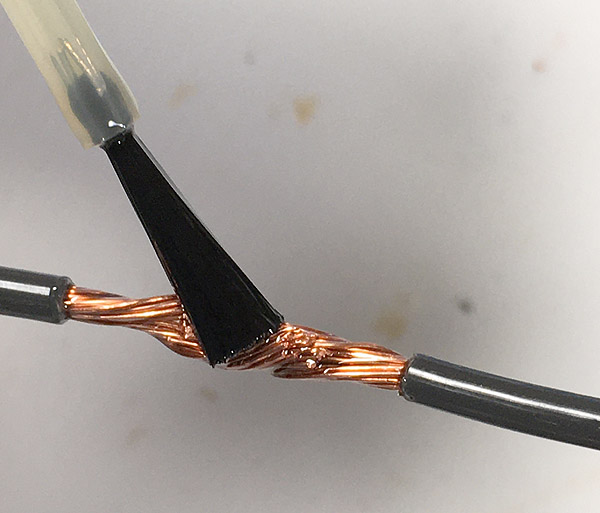 Finally, apply the iron to the bottom, and plenty of solder to the top. As the flux sizzles and bubbles, it will not only clean the metal but also help conduct heat. Here's my finished result. This is Kester K100LD (SnCu lead-free) solder with a 40-watt iron. A joint of this size justifies using a traditional soldering gun with much more power.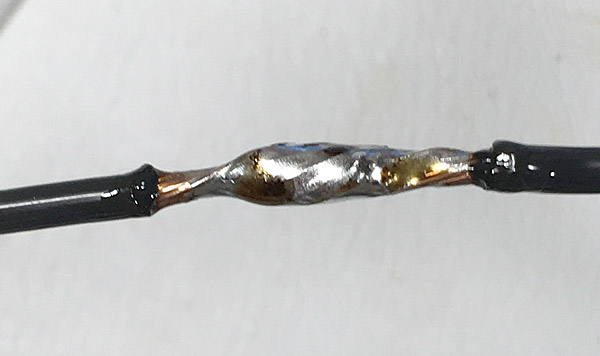 You can see that there was a bit of flux remaining, which I rinsed off with isopropyl alcohol.
One more thought about soldering in the 21st Century. In the 1970s and 1980s, we all moved to very low-powered irons "to keep from damaging printed circuit boards." Now we've learned that it is better to have temperature regulation, plus plenty of power. The way to damage a printed circuit board, or anything else, is to keep heating and heating it — while heat flows away from the joint and gets into other mischief — because the iron isn't hot enough to do the job quickly. And the way to protect circuit boards is to use a relatively low temperature with a relatively big iron that won't cool down when heat is drawn out of it by the work, and plenty of flux and/or pre-tinning.
---
---
The earth is round. Deal with it!
I want America to choose either year-round Standard Time or year-round Daylight Saving Time, I don't care which, and stop these twice-a-year clock changes.
Today I only want to squawk about one aspect of the issue. "The children will have to wait for the school bus too early, in the cold and dark."
If that's true, then maybe school, not sunrise, is at the wrong time. School is man-made; sunrise is dictated by the laws of nature and the roundness of the earth.
Why don't we adapt our human activities to the laws of nature rather than trying to reschedule the sun itself?