Short notes
In what follows, I'm going to catch up and write several Daily Notebook articles that I've been planning for weeks. Hang on to your hats...
Speaking of hanging onto hats, my hat will fit better now that Melody has given me a haircut. She cut my hair for about the first 30 years of our marriage, then retired from that job as she started having trouble with her hips. But she hasn't lost her talent.
It's a Sunday morning, and we will attend Alps Road Presbyterian Church via YouTube this afternoon. (Many people are viewing the service at the normal time of day, but it was pre-recorded and it doesn't much matter what time we view it.) And I just got an Amazon delivery. Amazon Prime is very handy for miscellaneous shopping.
We continue to survive at home, making brief, targeted expeditions for specific things, most of which are medical. Yesterday I had to get a garden sprinkler (for newly planted plants) and managed a very brief visit to Lowe's; while we were out, Melody and I also drove around and looked at Athens under lockdown. Without getting out of the car, I showed her FormFree's former site on Milledge Avenue where I spent so much time last month, the temporary site that FormFree is moving into tomorrow (though I may never see the inside of it!), and the new building under construction.
"Why aren't you staying at home absolutely all the time, with the doors locked?" Because to kill off the virus, we don't have to reduce everyone's contacts to zero. Reducing to 1/100 of the former amount is good enough. A quick trip to get important supplies, with use of hand sanitizer before and afterward, is nothing like a whole day spent on a crowded campus, or even one trip to a restaurant.
Some people are just now realizing the epidemic is real, and I'm seeing some foggy thinking, as if one person's extreme quarantine could make up for other people's large gatherings. That's not how it works. One large gathering can undo a hundred people's self-isolation no matter how strict. The reason is, you can't add a negative number to the total. If someone else's exposure is 1000, it doesn't matter whether mine is 0 or 1 or 2 — either way the total is still very close to 1000. (I can't make mine be -500 or -1000 to counteract that; we can't get negative numbers.) Let's work on the big gatherings and frequent contacts, rather than more heavily restricting people who are already restricted.
Let me add that you can't prevent exposures that have already occurred. The growing death rate today reflects what the disease was doing three or four weeks ago, when our government was still downplaying and denying the epidemic, and most of us weren't taking more than slight precautions. Meanwhile, the new case rate is highly problematic, because it very much reflects the amount of testing being done, which is variable and growing. The best data-aggregation site I've found so far is https://91-divoc.com, which uses Johns Hopkins data and updates around 9 p.m. EDT every evening, seven days a week.
Finally, if you're still panicking, remember that most cases of COVID-19 are not serious, and half do not even have any symptoms. This is certainly a serious disease, and it can create horrible shortages of medical care, but it's not going to kill everyone.
---
---
Economics 101
This is something I said on Facebook, but it's important enough to say to everybody.
As you form your opinions about the economic stimulus package, it's important to be economically literate. Traditionally, well-educated people have not been taught a bit of economics. As a result, many of us try to analyze situations by guesswork or with a mental model that is 200 years out of date. Or — worse — by pure imagination — by making up something that fits a political ideology, and not checking whether it squares with known facts.
Economics is a science, and there have been genuine advances in it in recent decades. I am not an economist. I am someone who had to scramble in later life to learn about economics. So many of my day-to-day decisions involve economics — from voting to household management — and I'm glad I did the scrambling. For anyone else who wants to scramble, I recommend the textbooks of N. Gregory Mankiw, who is politically conservative but very fair to all sides in controversies.
Economics is not just imagination. You can't just make it up or deduce it all from everyday common knowledge. Some things about economics are controversial or speculative, but others are established facts — even facts you would not have guessed. You have to pay attention to what's really going on, including knowledge that often takes great effort to collect. That's why economists pay so much attention to statistics.
The bottom line is, the question is not "Does this sound plausible to me?" but "Do the facts support it?" Facts are obstinate things.
One key fact to consider is that the coronavirus pandemic has already cost our economy and our government money. It can't be prevented by ignoring it. The question now is how to redirect its effects to do the least harm.
Another key fact is that every recession costs the government money. If the government just ignores the recession, tax revenues go down precipitiously. If the government responds by cutting spending ("tightening its belt"), economic activity goes down too, and the situation gets worse. But if the government deliberately spends borrowed money, it can prop up economic activity and, besides humanitarian benefits, recoup its missing tax revenue sooner. John Maynard Keynes is famous for having and promoting this insight.
Will this deficit spending cause "hyperinflation"? No. It does risk causing some inflation, reduced by the fact that it's happening in a recession. But some people are throwing around the word "hyperinflation" as if we were going to have inflation rates in the many thousands of percent (that's what hyperinflation means). No. The stimulus package will add at most $6 trillion to our present $15 trillion money supply. (I'm not totally sure about the $6T; I've heard lower numbers too.) A bit of back-of-the-envelope calculation shows that if that were totally inflationary, it would cause 40% inflation (once, not every month or every year). But, precisely because we're facing a deep recession, it won't cause nearly that much inflation. We're filling in a hole, not piling stuff up on the surface.
Many experts believe that deficit spending should happen in wartime and deep recessions, to rescue the country. The problem is that we have been deficit-spending like gangbusters in a time of peace and prosperity. Why we have not had a higher inflation rate puzzles even the top experts.
I'm well aware that some of my readers know a good bit more about economics than I do, and I will be glad to hear from them. What we must beware of is people who don't know what they're talking about, but are talking very loudly. Often, they are people who have made up a theory and not checked it against facts.
---
---
The EOS Ra, Canon's promising new astrocamera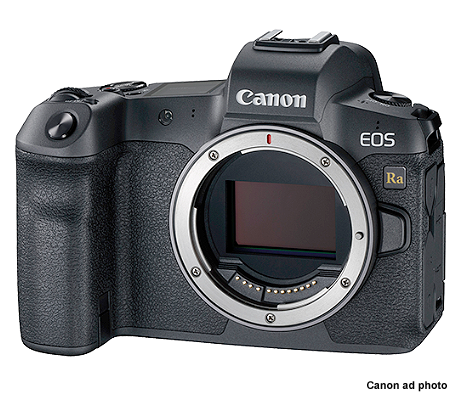 For the third time, Canon has introduced an astronomy-modified version of one of its best digital cameras. The first one was the EOS 20Da, which I used extensively, and the second was the EOS 60Da, which I own and have used for years. Now comes the EOS Ra. It got a rave review in Sky and Telescope (preview here; full review was published in the magazine; see also the reviewer's blog entry). Why haven't I written about it yet?
Largely because I hadn't used or tested one. Now, thanks to Stephen Rahn, I have some good test data and sample results.
Bottom line: This is a good camera. But it is different. Simple sensor measurements do not give a good comparison between this and the APS-C-format DSLRs I've been using until now.
Key characteristics of the EOS Ra are:
Mirrorless.
Has its own line of lenses and also takes EOS DSLR lenses and other lenses via adapters.
Full-frame (24×36-mm) sensor that also operates in APS-C crop mode.
Extended H-alpha sensitivity from the factory; no need for third-party modifications; no worries about dust under the filter.
Good color rendition in daytime photography, similar to Ektachrome film. Perhaps not ideal for portraiture, but excellent for nature photography.
Low-noise third-generation sensor.
For astronomers, 30× magnification in Live View for precise focusing.
Fold-out screen (important behind a telescope; not provided on the competing Nikon D810a).
Now about that sensor... It's hard to compare directly against the Canon 60Da or Nikon D5500 (the two cameras I'm using for deep-sky work now) because:
The pixels are bigger: 5.34 µm on the Ra versus 4.29 µm on the 60Da and 3.89 µm on the D5500.
That means the pixel surface areas are respectively 28.5, 18.4, and 15.1 square microns.
The full-well capacity is about 64K photoelectrons, versus 34K and 24K respectively.
Unlike the Nikon, the two Canons do not perform cosmetic preprocessing of the raw image. While the Nikon doesn't "eat stars," it does deliver an image that is not truly raw.
The big pixels and higher full-well capacity mean that the gain (DN/e-) of the Ra is appreciably lower than the others, and that's OK, because there are more electrons in every pixel. That, in turn, throws off a lot of the other numbers you might be wanting to compare. The read noise of the Ra is low, but in electrons it is higher because the whole process uses more electrons, ultimately because each pixel captures almost 3 times as much light.
It does mean we have to re-think some optimizations. On the Nikon, unity gain (which guarantees you're counting every electron — roughly speaking) occurs at the same ISO setting as maximum dynamic range, namely ISO 200 or a tad higher. On the EOS Ra it doesn't. That means there is no single best ISO for the Ra; use 200 if you want dynamic range, 800 if you are dealing with underexposure.
Looking at extremely stretched dark frames, I saw no vertical or horizontal banding; the "tartan of the clan of Canon" is gone. (Others, however, do report banding.) I did see a trace of amp glow and a few hot pixels. Actually, this is good because it shows that the camera is delivering a genuinely raw image and has not tried to cover anything up. I did not see perceptible amp glow or hot pixels in uncalibrated deep-sky images; they are at a much lower level than any reasonably exposed photograph.
Being mirrorless, this camera has a body thin enough to work with any SLR lens. Canon's adapter for EOS lenses automatically switches the camera to APS-C crop mode if you're using an EF-S (smaller format) lens. So every EOS DSLR lens ever made will work. Indeed, that's another Canon-versus-Nikon advantage: Canon cameras and accessories always interoperate unless there's an obvious reason not to; Nikons are fully functional only with lenses that are contemporary with the camera body, and there's constant change.
Will I be buying one? Maybe. The price ($2500) is a lot higher than an H-alpha modified low-end DSLR (Nikon D5500 or Canon 200D for instance). But the quality is higher too. On the other hand, at that price point it competes with cooled astrocameras.
---
---
Nikon improves its 18-55-mm kit lens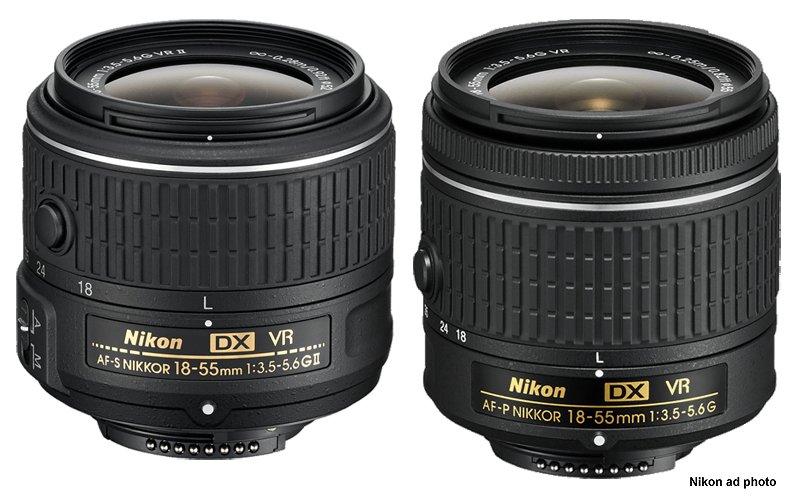 Here's another piece of old news. A few months ago, Nikon quietly but substantially improved the 18-55-mm zoom lens that is bundled with APS-C DSLRs.
The biggest change is pulse-motor autofocus (AF-P). That's important if you shoot video. With the in-camera microphone, the new lens is just audible when it focuses; with a microphone in the flash shoe, it can't be heard at all. Contrast that with the "whirr, whirr" of the older lens.
The new lens is also an improved design. Here's a comparison:
| | | |
| --- | --- | --- |
| | AF-S Nikkor | AF-P Nikkor |
| | 18-55mm 1:3.5-5.6 G II VR | 18-55mm 1:3.5-5.6 G VR |
| | | |
| Elements: | 7 (1 asph., 1 ED) | 12 (2 asph.) |
| Closest macro: | 0.31× | 0.38× |
| Smallest f-ratio: | f/22 | f/22-38 |
| Filter size: | 52 mm | 55 mm |
As well as quieter focusing, they've given us quite a step up in optical quality. I'm sure both lenses are optically very good; I'm ashamed to say I haven't used mine for anything but making videos for the grandchildren. I bought mine refurbished from Nikon at a bargain price.
---
---
Dietician or dietitian?
Recall that I was originally trained as a historical linguist. Watch me put some of this training to use...
I've been told that the word for diet specialist is dietitian, and I've been wondering why it ends in -itian, an ending that is otherwise rare. Why not dietician? It turns out that spelling is used too, and there's quite a war going on.
Being a linguist, I fully recognize that spellings are arbitrary; a language can spell a word any way it wants to.
At the same time, as a user of the language, when I have a choice of spellings, I prefer to (1) preserve pronunciation (not an issue in this case); (2) follow existing patterns in the language; and (3) be faithful to the origin of a word. That is, just like everybody else, I am wary of random changes.
Now here's where it gets interesting. The spelling dietician is also well established. Looking at actual usage on Google NGrams, (here and here), we see that dietitian has been predominant since about 1890, but dietician has been giving it healthy competition. The -itian spelling appeared first, around 1808, but -ician outnumbered it for a while in the 1800s.
Dietician preserves the pattern in physician, pediatrician, obstetrician, mathematician, etc. (which are obviously related, respectively, to physic(al), pediatric, obstetric, mathematic(al)).
I can't find another word ending in -itian, and there is no other word starting with dietit-.
In fact, there's an etymology problem here. From Greek diaita + ik-, which would go into Latin as diaetic-, we ought to have a word *dietic. We don't. (Linguists mark a word with an asterisk when it doesn't exist.) Instead, the word is dietetic.
So we have two historical questions: (1) Where did dietetic get the extra syllable? (2) Who introduced the word dietitian, and why did they spell it that way? It seems to be the older of the two spellings.
Over to the Oxford English Dictionary, which I can get on line through the UGA Libraries.
It turns out that dietetic goes all the way back to Greek. Alongside diaita 'way of life, diet' the Greeks had another word diaitētikē 'the art or science of diaita'. From that, we get dietetic. Maybe we should also have gotten *dietetician but we didn't.
From Greek we did, however, get dietist, which has dropped out of use. Hmmm...
Now as for dietitian: The OED lists the word as dietitian, "also dietician." That is, both spellings are in use, but the first one is dominant. (The OED is not a prescriptive dictionary; it doesn't tell you what to do; it tells you what people are doing.)
It defines dietitian as meaning the same thing as dietist.
And it gives no detailed history, certainly no account of who introduced the word, but my own educated guess is that the T spelling is influenced by dietist and maybe dietetic. I could snarkily describe it as a mistake that stuck!
So which one is correct?
The organized dieticians of the English-speaking world have some strong opinions. I thank Tim Finin for pointing me to this brief account of attempts to make the T spelling official.
The trouble is, nobody can make a spelling official. It will surprise some people that there is no official authority for the English language — not even the Merriam-Webster Company, even though its dictionaries often have a prescriptive tone.
The truth is, both spellings are in wide use, and the most you can do is make a large organization adopt one or the other. I am not at all sure why the T spelling is a point of pride among dieticians (dietitians). Maybe someone taught them in early life that it is "correct" and they're sticking to it.
For myself, I see absolutely no reason not to use the C spelling, which has a better etymology and preserves an existing pattern in the language.