I'm back! And I have a lot of material queued to put into the Notebook today, so hang on to your hats! The 9-day hiatus doesn't reflect any kind of calamity; we've just been busy!
What is a conspiracy theory?
(Previously posted on Facebook.)
What is a conspiracy theory?
Not merely the theory that there is a conspiracy. Sometimes there really are conspiracies (e.g., the Watergate cover-up).
It is a way of demanding that people ignore evidence.
Specifically, a conspiracy theorist tells you to ignore any evidence against his or her claims, because they say that evidence is part of an impossibly large deception being practiced by somebody.
And if any evidence arises to challenge that, they say it, too, is part of the deception, which becomes bigger at every turn. The hallmark of conspiracy theories is the claim that people are being deceived on a grand scale.
I have had flat-earth conspiracy theorists claim that all the astronomers, professional and amateur, in all the countries of the world, are being paid off by some conspirator (NASA?) to keep them from revealing what they actually know. All of them. Everywhere. Even in hostile countries. That's what conspiracy theories are like.
---
---
Is there any reason why I should agree with you?
(Previously posted on Facebook.)
Have you noticed that when people post on social media about controversial issues, they often give you no reason at all why you should agree with them?
They just say something (often at great length) as if saying it made it true.
Or they say how strong their feelings are, as if strong feelings make it true.
Maybe they haven't thought it through themselves — don't actually know both sides of the controversy — and so aren't equipped to judge between them.
Or maybe they don't want you to think it through, because clear thought might keep you from taking their side.
Friends, if you have opinions to express, give reasons for them. If you can't do that, they are not opinions, they are random guesses, and nobody else needs to hear them.
---
---
Simplified setup instructions for iOptron GEM45
(probably also CEM40, maybe others)
The way I set up my iOptron GEM45 telescope mount is a little simpler than the instructions would lead you to expect. Click here for my instruction sheet.
---
---
Moon: the Straight Wall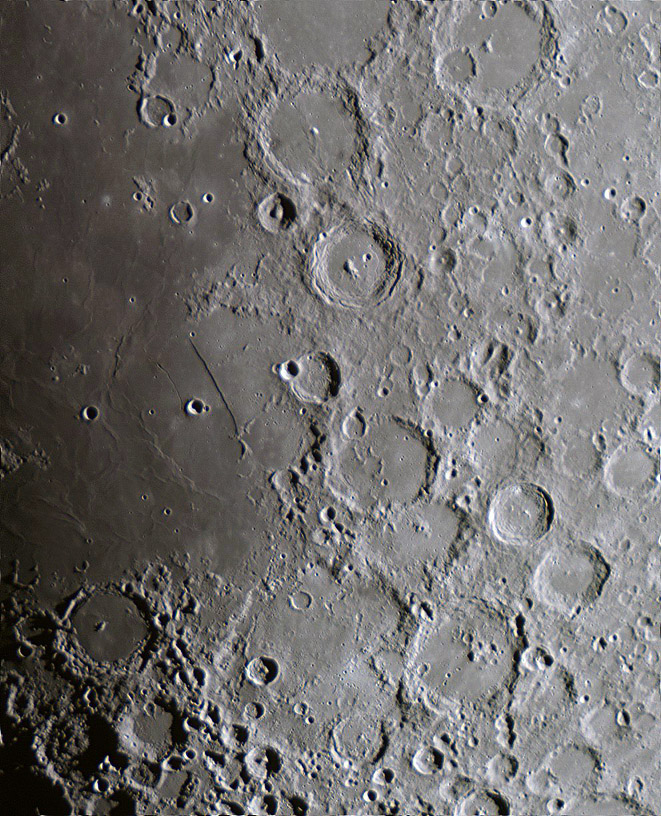 On May 9 I got the telescope out to make sure the GEM45 was functioning well after I replaced its RA drive belt. Of course, I didn't want to come back empty-handed, so I put my ASI120MC-S camera at the f/10 focus of my Celestron 8 EdgeHD and recorded 3,147 frames of video, then stacked and sharpened the best 50%. As I've mentioned, this technique takes advantage of the fact that although each individual frame is blurred by the turbulence of the air, the sum of a large number of random blurs is a Gaussian blur, which can be undone mathematically.
A conspicuous feature in this picture is the Straight Wall (Rupes Recta), actually a cliff, not a wall.
---
---
Moon with old equipment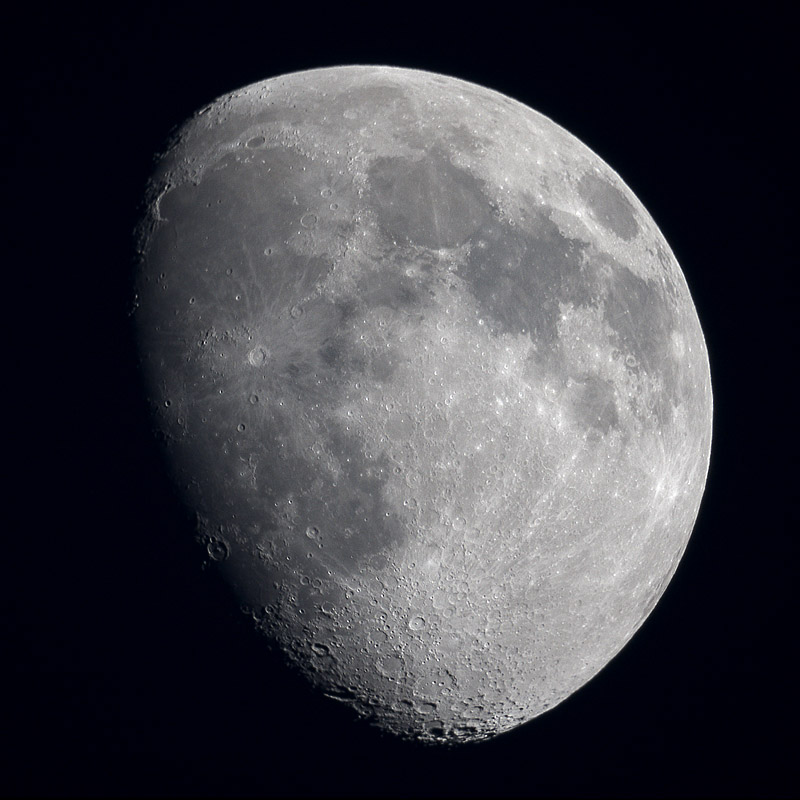 We have an eclipse of the moon coming up on Sunday, and I wanted to prepare to photograph it. I needed a telescope that would give a large image of the moon on a DSLR sensor without extending beyond it, and a camera with normal (unmodified) color sensitivity and some kind of electronic first-curtain shutter (Live View shooting, in Canon parlance).
What fills the bill is my vintage 1980 Celestron 5 telescope on my vintage 1994 pier, with my vintage 2007 Canon 40D camera. Here's a test shot. If weather cooperates, I'll use this equipment to photograph the eclipse.
---
---
Some interesting word origins
Hangar (for airplanes) is not related to hang. It is an old Germanic word, earlier perhaps haim-gard, cognate with "home yard" and referring to a farmer's barn. Apparently, until the rise of aviation, it was pronounced "hang-arr," not "hanger."
Before it came to mean an unexamined assumption about people, stereotype was a term in the printing industry. It's Greek for "solid type" and refers to several ways of delivering material to newspapers pre-typeset: first as actual metal sheets, then as fiber mats onto which molten metal could be poured, and eventually as camera-ready copy. Small-town newspapers often had lots of stereotyped content; you could tell that the style of the typesetting didn't quite match the paper's own, although it was close.
Naturally, such material wasn't altered or even reviewed by the local editor.
Interestingly, cliché, in French, referred to the same thing — it means "click" and refers to "clicking in" a pre-made metal sheet of type. Nowadays it refers to a phrase used without thinking. (It also means "snapshot," but that's a different kind of click.)