50th anniversary of my first day at UGA
September 19, 1973, my first day as a University of Georgia student, was one of the most formative days of my life. To commemmorate its semicentennial, I did today what I had been planning for years — I revisited places on the campus that were important that first day.
Some of my earlier writings mistakenly say the first day of classes was September 18. I checked; it was the 19th.
The previous day, the trip to Australia had ended, and I had flown into Athens in the evening. My mother and sister meanwhile had moved from Valdosta to Athens, so I came home to a new house very similar to the old one — they had even unpacked and reconstructed my room. I deeply appreciate the sacrifices that they made to move to Athens. It wasn't just for me to go to college; Mama had other reasons for wanting to get away from town where my father had died, and both she and my sister ended up benefiting from the move more than they expected.
For me, becoming part of the University was like coming home for the first time. It was about affirming my right to develop my God-given talents. No longer would people give me funny looks for being serious about my studies or for believing in something greater than myself. Or if they did, they were greatly outnumbered by those who would give them funny looks for doing so. I was glad to become part of a great institution that was devoted to developing the human intellect and putting it to good use.
This doesn't mean I liked everything about the University of Georgia, of course. There were a lot of people I didn't have anything in common with. But the main thing is, they didn't own the place. The students who came just to party had a certain respect for the serious students; they were, after all, trying to borrow respectability from us. Nobody at UGA tried to claim that being scholarly was inherently abnormal or undesirable — a common theme in the small-town life I had experienced until then.
When I did get encouragement in Valdosta — and plenty of people did give it — it was with the implication that "you're way out of our league," that I was the only something in town and they should not be expected to understand me — that I was headed for some exotic world far away.
At UGA I hoped to be able to develop my talents without standing out so much, in a place where other talented people were also thriving and could understand what I was up to. I did manage to stay out of the limelight for a couple of years, but eventually graduated as co-valedictorian. Still, I was very glad to be surrounded by other talented and hard-working people who did not consider me totally different from themselves.
---
That day in 1973 started when Mama dropped me off on Baldwin Street for my first class. Here's how Baldwin street looks today: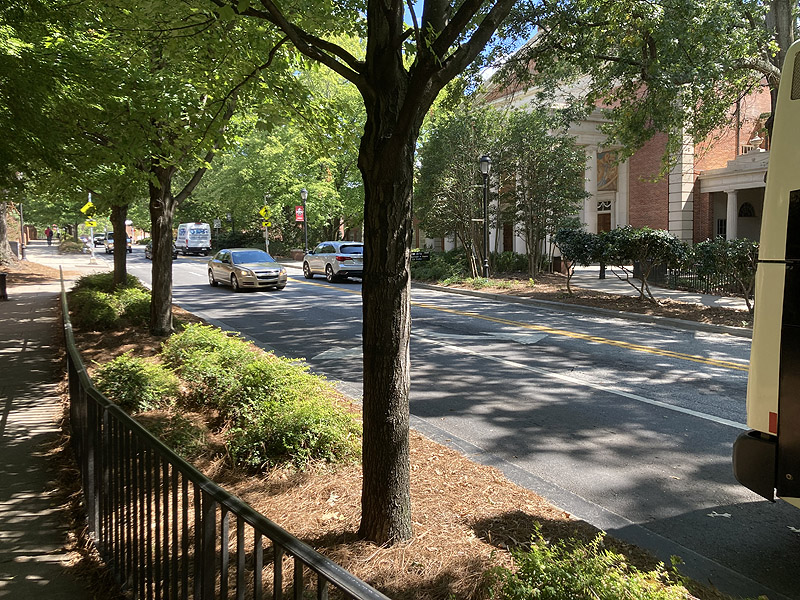 The Fine Arts (music and drama) building on the right has a Jean Charlot mural which is still worth a visit. But I was headed across the street, to the new wing of Park Hall: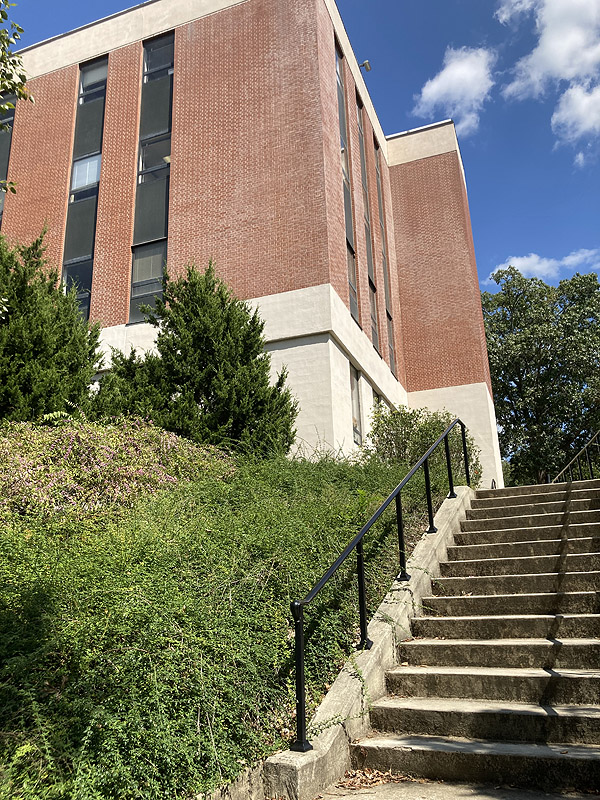 Here is a better view of Park Hall, which houses the Departments of English and Classics.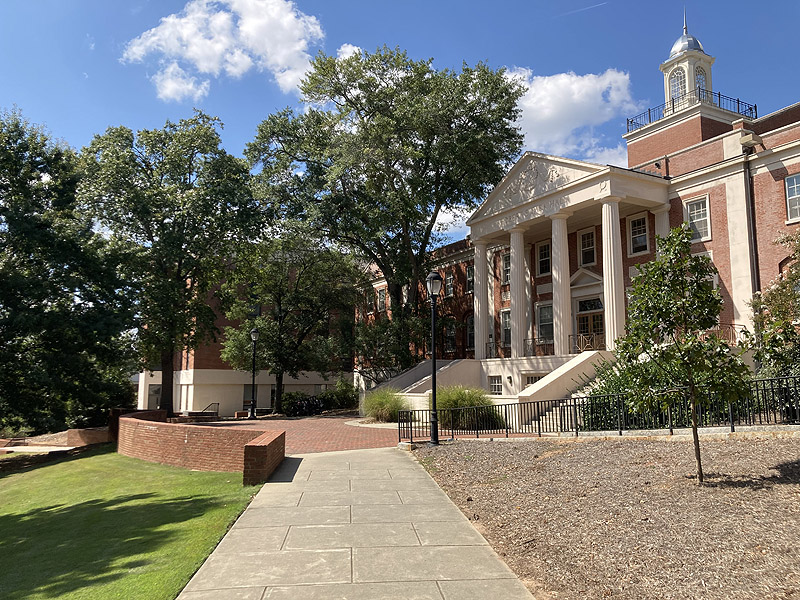 On the fire door between the old and new parts, there was a helpful sign that said "New Wing." Someone had pencilled in, "For old birds." Fair enough for the Department of Classics, I recall thinking.
The class was Greek 201, using the Loyola University textbooks to begin with Homeric rather than Attic Greek. I already knew a fair bit of Koiné and Attic Greek from self-study in high school, and that gave me a head start. Here, to the best of my recollection, is approximately where the class met, on the ground floor (today it is the Writing Center):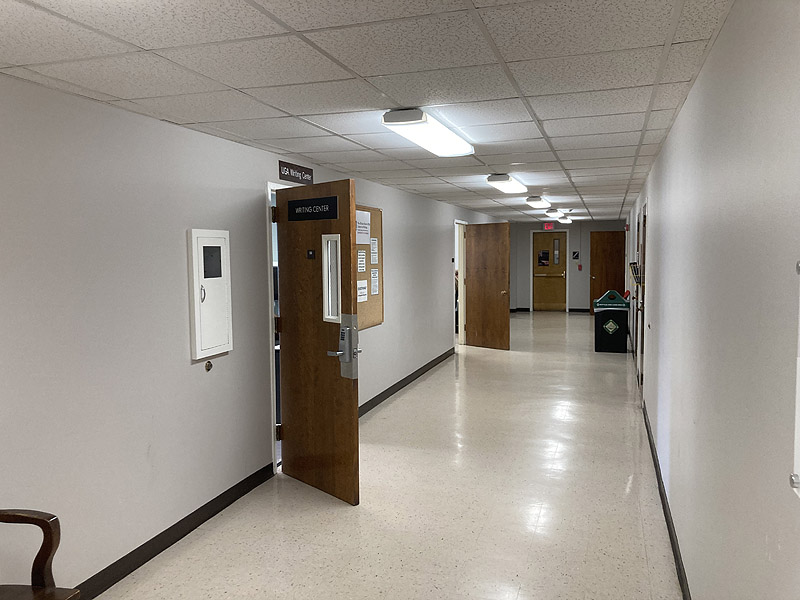 The instructor was James Wagner Alexander, a legend in his own time, now honored by a reading room in Park Hall which was a classroom where I took some courses in the mid-1970s: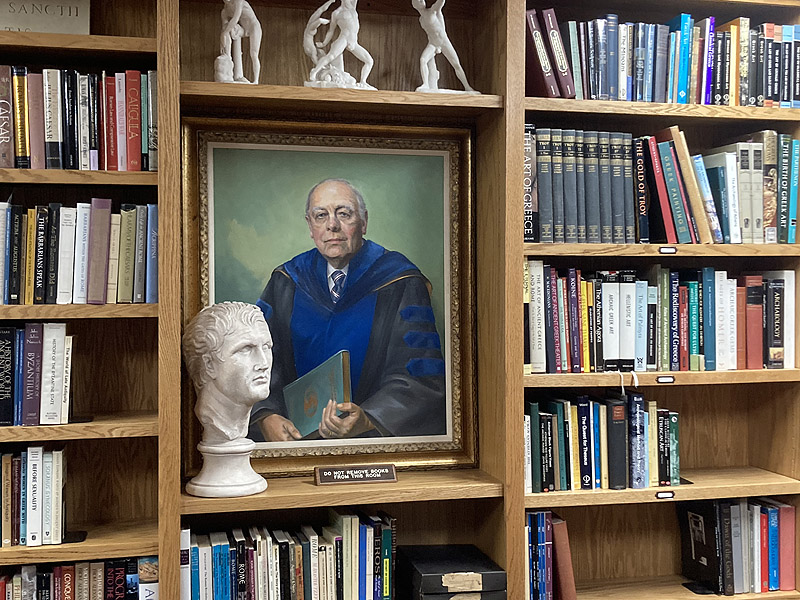 Next I was off to Baldwin Hall for a political science class: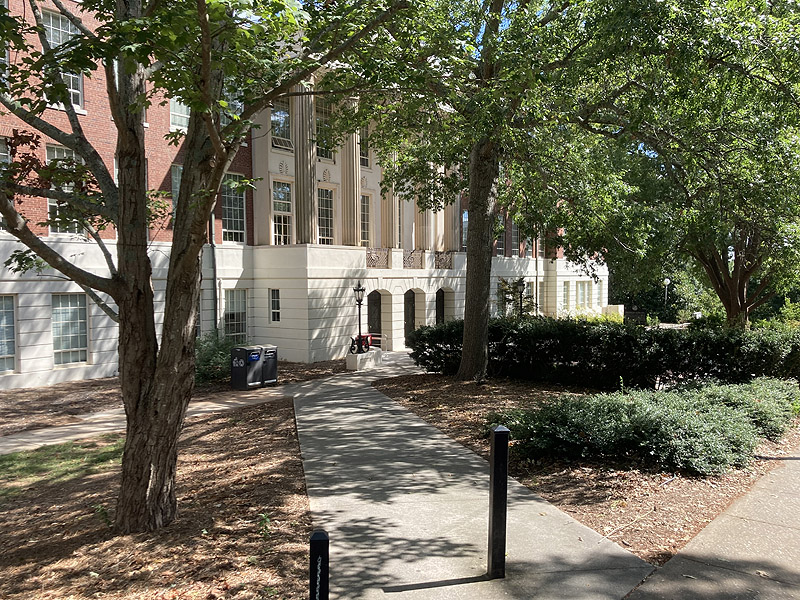 The class was general honors political science, and the instructor was Keith Billingsley, with whom I later enjoyed working as a colleague. His position was that we honors students already knew basic politics and history, and we should try to learn about the issues of the future. The assigned readings were Asimov's Foundation trilogy, Heinlein's Revolt in 2100, and a book of readings called Futures: Conditional. Nonetheless, I did a term paper on a traditional political topic (the Electoral College) because I wanted to learn how to do library research in that area.
(Baldwin Hall also happens to be the first UGA building I ever set foot in, because in 1963, my uncle, distinguished educator Ira E. Aaron, and his colleagues had me there to study how I had learned to read as toddler, and to make recommendations for my education.)
I had lunch at the Bulldog Room (snack bar), whose main entrance was covered when Memorial Hall added an elevator shaft in the 1980s or 1990s: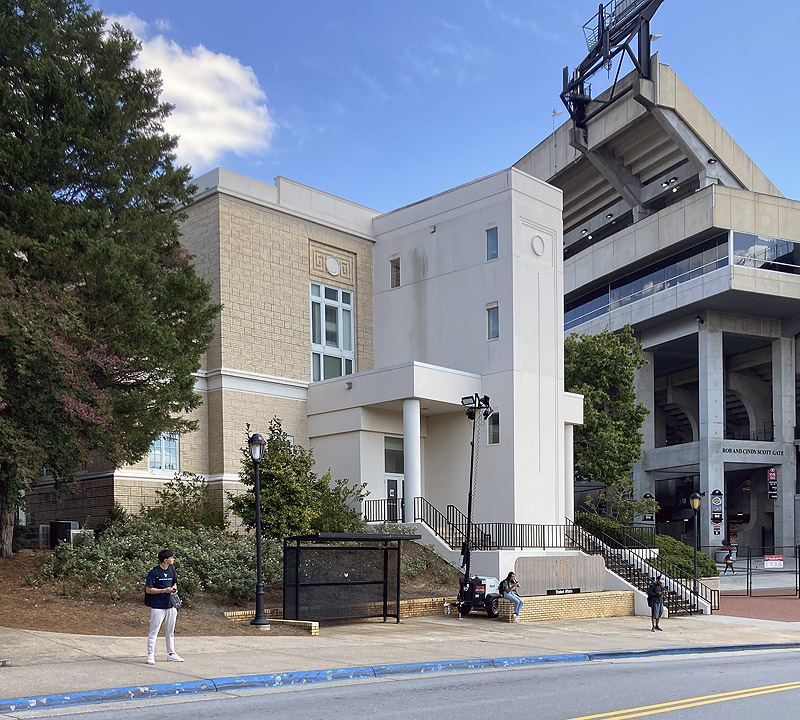 Of course there is now a new Bulldog Café across the street in the Tate Student Center.
I can't remember if I actually got into the super-crowded University Bookstore on the first day. Its old main entrance is in the middle of this picture; it's a small square building now used for administrative purposes, but it was then the lobby of (part of) the much larger building behind it. On the left you see the Tate Student Center, which did not exist in 1973.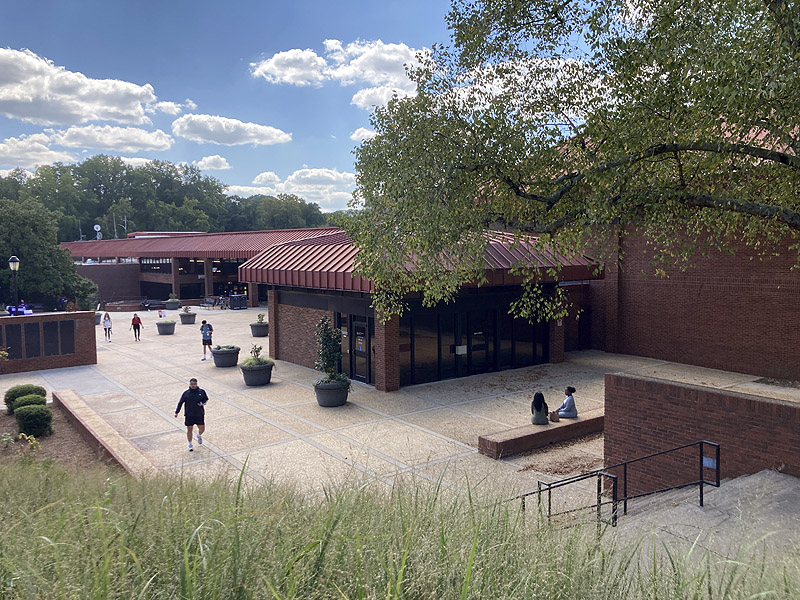 I don't think my physical education class met on the first day. It was in Stegeman Hall, which has been demolished and whose site is now the parking for the Tate Student Center, seen here from the Lumpkin Street entrance: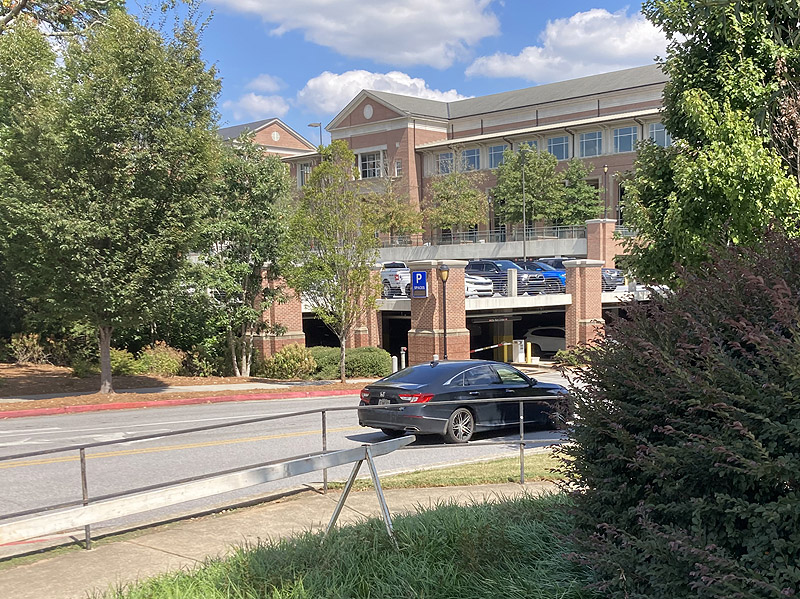 Stegeman Hall is not to be confused with Stegeman Coliseum, which in those days had not yet been named after Stegeman, nor did it have its present glass front.
Anyhow, after lunch I headed for what was then the Boyd Graduate Research Center, the same building in which I later had an office for about a quarter century. Here's how it looks today: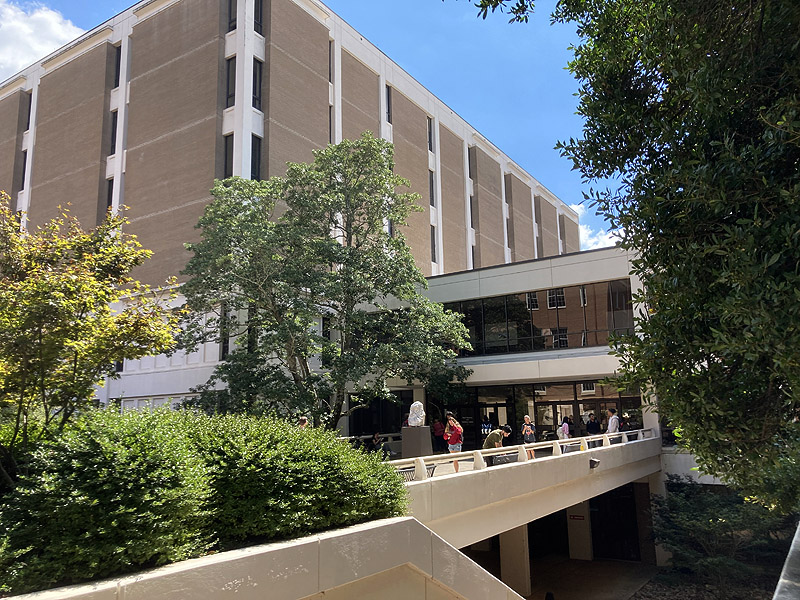 The course was Honors Mathematics for Non-Science Majors, taught by a doctoral candidate (I think) named, to the best of my knowledge, David Phillips, known for his longish hair (fashionable then), his austere office with only a couple of books in it, and his large metal belt buckle that advertised Southern Comfort whiskey (perhaps in questionable taste now, but that was 1973).
The course covered basic concepts from calculus illustrated by PL/1 programming using CPS on the IBM 360/65, accessing the computer through teletypes and IBM typewriter terminals. I took to it like a fish to water. This is approximately where it met, on the third floor: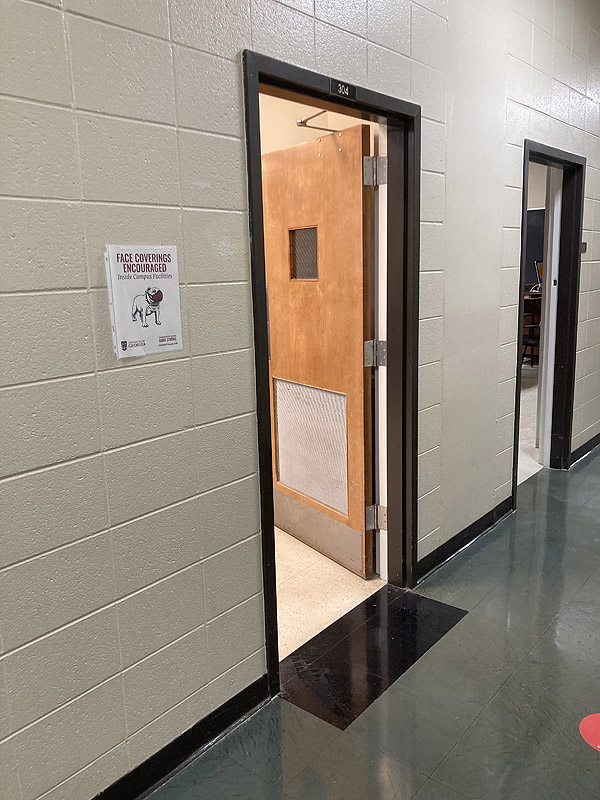 It was the smallest and most congenial of the three classes, and I can remember making friends with several classmates.
One last thing. In 1973, as now, we relied on free campus buses to get around the big campus. Here is one I rode today, plying the same route as in 1973.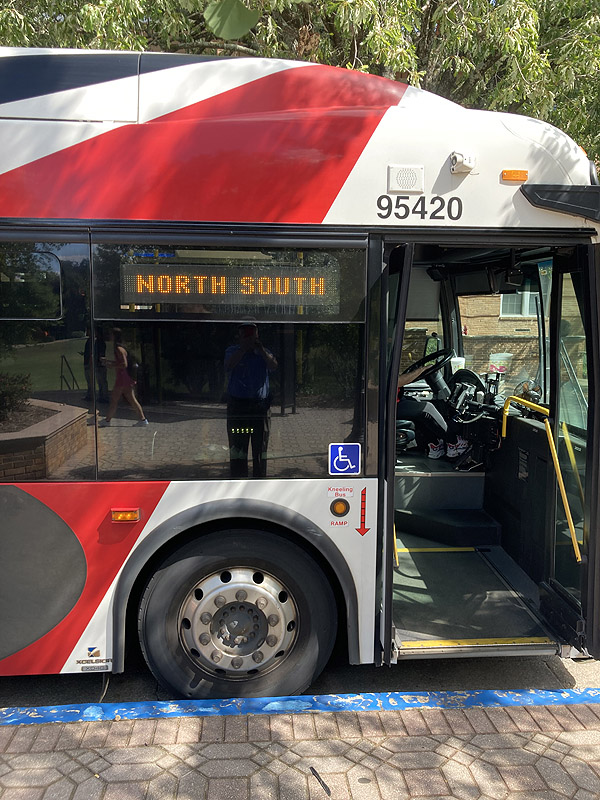 The North-South and Milledge Avenue routes are approximately what they were; all the others have been changed. Also, today many of the buses are electric.
---
And that was how I commemorated the 50th anniversary of that great day.
Blessed art Thou who has given us life and sustained us and enabled us to reach this day.
This is the last of the 50th anniversaries I will be commemorating here until we get to the 50th anniversary of my meeting Melody, a couple of years from now. But we have a 100th anniversary coming up in a couple of days... stay tuned.